Amarin's Value Could Plunge If Heart Drug Patent Suit Is Lost
(Bloomberg) -- Analysts have cautioned Amarin Corp.'s share price could be cut in half after a key patent decision for its cardiovascular medicine Vascepa, expected in March.
A federal judge in Las Vegas is considering the company's patent-infringement complaint that seeks to block generic versions of the drug until six patents expire in 2030. A non-jury trial was heard in January before District Court Judge Miranda Du, and both sides are submitting their post-trial arguments to the court by Friday.
Generic drugmakers Dr. Reddy's Laboratories Ltd. and Hikma Pharmaceuticals Plc have said their labeling wouldn't cover the patented treatment methods and that a version of Vascepa's active ingredient, a type of fish oil, has been known since the 1990s so the treatment method isn't all that unique.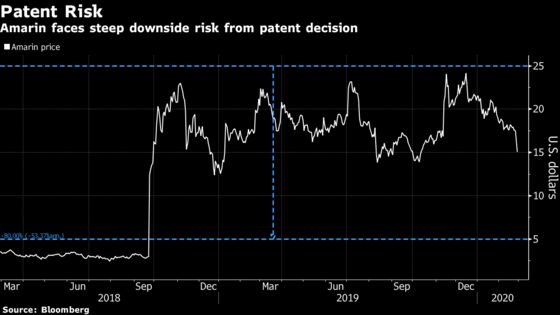 Meanwhile, Amarin has argued Vascepa is a "major advance" in methods to reduce high triglyceride levels and has eliminated some of the negative risks associated with other medicines, such as increasing levels of so-called bad cholesterol, a wasting of muscle and gastrointestinal problems.
The medicine recently secured a broader label around its cardiovascular benefits from the Food and Drug Administration. Sales of the therapy could reach over $1 billion by next year, according to analysts tracked by Bloomberg.
Read more: Amarin Forecast Left Unchanged Ahead of Heart Drug Sales Push
Citi predicts shares could rally 20% if Amarin prevails, while a loss could drive a 50% plunge. Jefferies saw even more downside, with the stock potentially plunging as low as $5, a roughly 70% drop from current levels.
Still, both banks were positive on Amarin's prospects ahead of the outcome expected in March.
Investors are "overly concerned" about the risks to the patent for Vascepa, Citi's Joel Beatty wrote, raising the drug maker's rating to a high-risk buy from high-risk neutral. Even if Vascepa faced an immediate loss of its exclusive status, Beatty said the drug could still keep its price in the vast heart disease market. But "it would come down to how much share Amarin could maintain," he told clients in a note.
Amarin shares could trade above $25 if victorious, Jefferies analyst Michael Yee wrote in a note, although a win would then refocus investors on whether or not Amarin will get bought. "Some investors may try to fade a big pop in the stock," he warned.
Beatty expects a decision on Vascepa's patent will likely be close to the 2029 settlement terms agreed to with Teva Pharmaceutical Industries Ltd.
The case is Amarin Pharma Inc., v Hikma Pharmaceuticals USA Inc., 16-2525, U.S. District Court for the District of Nevada (Las Vegas).