Amarin Slides as Bulls Battle Bears After Fish-Oil Results
(Bloomberg) -- Full results for Amarin Corp.'s Vascepa fish-oil pill for high-risk cardiovascular patients exceeded sell-side expectations in a long-term study and re-ignited a bull versus bear debate after the stock's more than 600 percent jump.
Jefferies analyst Michael Yee called the data compelling and representative of "landmark results" that can ramp up sales and prescription use. Bears highlighted patient reactions in a control group that received mineral oil, as trends for important study markers like bad cholesterol, increased and may have confounded results. Amarin sank as much as 11 percent in early trading, the most in two years, before trading at $19.37 at 9:52 a.m. in New York.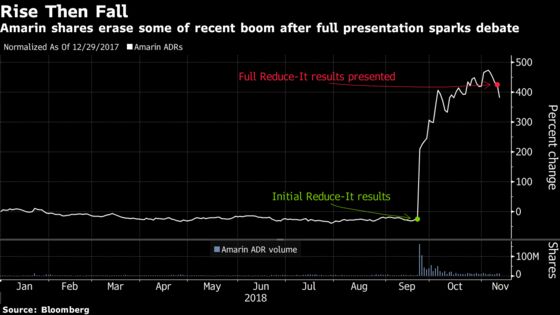 Here's what else analysts are saying about the news:
For bulls "most investors think the overall data is quite compelling and represent landmark results and the bear case about placebo arm is noise." Survey of doctors at the key presentation showed 87 percent of those in attendance said they plan to "prescribe exclusively EPA 4g (Vascepa) to all high risk patients with moderate hyper" triglycerides.
"Two cardiologists at the analyst event panel noted the results were game-changing and expect to significantly increase utilization," another positive for bulls who are unconcerned about the "noisy mineral oil debate" and view Vascepa as one of the "only scarce multi-billion dollar potential M&A assets out there."
Bear feedback is primarily centered on placebo arm trends going in the wrong way, comments from some specialists on questions surrounding the results and the impact from placebo use, as well as intellectual property and off-label use of other products available at pharmacies.
Rates buy with $30 price target.
"Overall, Reduce-It data supports our $2.5b sales" forecast and puts pressure on Street expectations for $1.6 billion in sales by 2024.
Cardiovascular "benefit looks better than PCSK-9s" though trial design and regimen could partially contribute to the difference. Near-term sales ramp could be further accelerated if Vascepa is added as an additional therapy for patients with high risk prior to label expansion in 2019 or early 2020.
"Sub-analyses partially alleviate concerns raised about use of mineral oil as a placebo in Reduce-It," including concerns it may have led to an increase in bad cholesterol, potentially confounding the results. Does not view "the use of mineral oil as a placebo in Reduce-It as an overall confounding factor in the trial results" despite concerns on changes in biomarkers.
Maintains buy rating, price target $30.
Cantor Fitzgerald, Louise Chen
Increased confidence "that the peak sales potential of Vascepa is underappreciated. Physicians we spoke with at AHA were very positive on the data, and said they would meaningfully increase or start using Vascepa a lot more."
"There were concerns regarding articles circulating this weekend from the press talking about mineral oil being used in the placebo arm confounding results," though "none of the doctors we spoke with were concerned at all about mineral oil."
"Vascepa will be the only play in town for awhile and potentially even for the foreseeable future" if data from AstraZeneca's Epanova are not positive after being pushed out to 2020 from 2019.
Maintains overweight rating, price target of $35.
HC Wainwright, Andrew Fein
"We believe that beyond the topline of 25% reduction of MACE score, the robustness of the data is highlighted by the consistency across pre-specified analyses."
Echoes sentiment from some specialists at the meeting that the data "may be viewed as unprecedented and paradigm-changing in the context of minimal or modest benefits historically achieved by various therapies on top of statins."
Views mineral oil controversy as "temporary noise that has been given an oversized weight by the bears."
Reiterates buy rating, raises price target to Street-high $51 from $31.