Amarin's $4 Billion Breakthrough Has Helped Ignite Takeover Speculation
(Bloomberg) -- Amarin Corp.'s boom from small-cap drugmaker to an almost $5 billion biotech has Wall Street buzzing about what might be next for the company and its coveted heart medicine.
Amarin's stock has more than quintupled since paradigm-shifting results on the purified fish oil Vascepa on Sept. 24 solidified the company's position on sector analysts' lists of potential takeout targets. The drugmaker has also yet to announce an equity offering, which has added to speculation of a deal because a bigger sales force is needed to market the potential blockbuster medicine.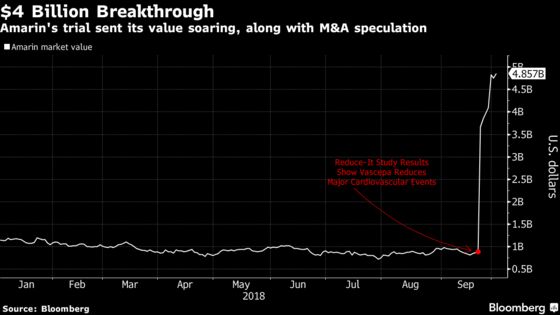 "There is an imminent need for a large expansion of the sales force," Citi analyst Joel Beatty said by telephone. "That's the type of thing that larger pharma companies with an established sales force could do better, and at least faster, than Amarin."
Beatty listed Amgen Inc., Regeneron Pharmaceuticals Inc. and Sanofi as companies that could derive additional benefit from a deal because they already have heart medicines on the market. However, he said any company with a larger sales force could be seen as a buyer.
The Dublin-based company's American depositary receipts rose 2.4 percent at 9:37 a.m. in New York.
Amarin has said it plans to increase its U.S. sales representatives to about 400 from about 150 currently. Vascepa is already on the market for a more narrow indication. The company had a cash balance of just over $100 million as of June 30.
"An action to market this drug more aggressively, whether it be internally by Amarin or by another company via an acquisition or some sort of partnership" would make sense "sooner rather than later," said Beatty.
Amarin said in an emailed statement that it is "focused on initially expanding the sales force and the upcoming presentation of Reduce-It data at the American Heart Association annual meeting" next month. "We will have more to report on our plans to support Reduce-It and Vascepa at our quarterly report," which is usually released in early November.