Alwaleed to Sign $1 Billion Loan in First Borrowing Since Arrest
(Bloomberg) -- Kingdom Holding Co. will soon close a $1 billion loan, the first time Prince Alwaleed Bin Talal's investment firm has borrowed since his detention last year.
Kingdom Holding will sign the deal "imminently" with a group of international and local banks, Chief Executive Officer Talal Bin Ibrahim Al Maiman said in a phone interview from Riyadh. The investment firm, which started discussions with banks about the borrowing last October, hasn't been in a rush to close the loan because it's had enough cash to finance its investments, he said.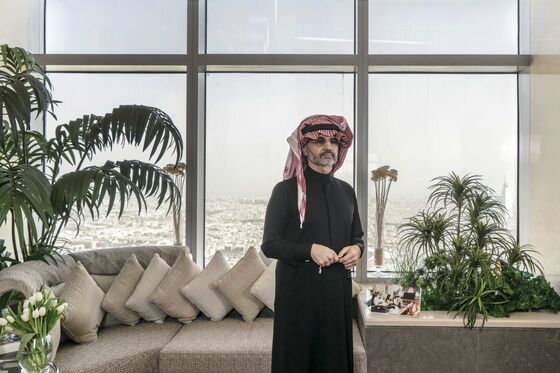 Talks for the financing were put on hold in November after Alwaleed, the 67th-richest person in the world, was among princes, ministers and senior officials who were held at the Ritz-Carlton for almost three months. Kingdom Holding revived the talks with local and international banks in March and the loan was going to be backed by the company's stake in Banque Saudi Fransi, people familiar said at the time.
Recent discussions were delayed after some banks on the deal had requested higher rates on the loan following Alwaleed's arrest, people familiar with the matter said this week. Al Maiman said the arrest hasn't impacted the terms of the loan and that Kingdom Holding has several investment opportunities it's currently considering, some of which could be funded by the loan.
After his release in January, Alwaleed sought to reassure business partners that his empire was intact, and said he'd signed a "confirmed understanding" with Saudi authorities that left him free to function normally with "zero guilt" and "zero conditions."
Since his release, Alwaleed has returned to dealmaking, with the acquisition of a 2.3 percent stake in Snap Inc., the parent of Snapchat, in a deal valued at $250 million, and a 1 billion Saudi riyal ($267 million) investment in Paris-based music streaming company Deezer.