Altice Soars as Turnaround in Sight on French Subscriber Gains
(Bloomberg) -- Altice NV added customers in France and other European markets in the first quarter, signaling billionaire Patrick Drahi's turnaround plan for his debt-laden telecom carrier is taking hold. The stock rose the most in almost six months.
Altice saw a net gain in its flagship French business of 71,000 customers taking pay-TV, broadband and landline phone services, part of what it characterized as the best subscriber trends ever reported by the European business. The additions in France, including at SFR Group, compare with a loss of 35,000 a year earlier, the company said in a release on Thursday.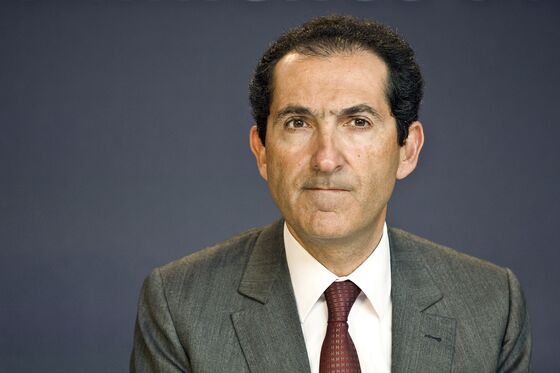 Winning back market share is part of Drahi's plan to return the European business to earnings growth. The Franco-Israeli dealmaker has overhauled management, put assets up for sale and planned a spinoff of Altice's U.S. cable-TV business after a stock slump late last year. He had faced concerns about the Amsterdam-based company's ability to repay its high debt, due to weakness in the French business.
"The numbers speak for themselves," Dennis Okhuijsen, chief financial officer of Altice Europe, said on a call with reporters, pointing to better customer service at SFR that's reduced defections to other operators. "We feel very good about it and we feel there's more improvement to come."
The shares rose as much as 12 percent, the most since November, and traded at 8.80 euros as of 11:04 a.m. in Amsterdam.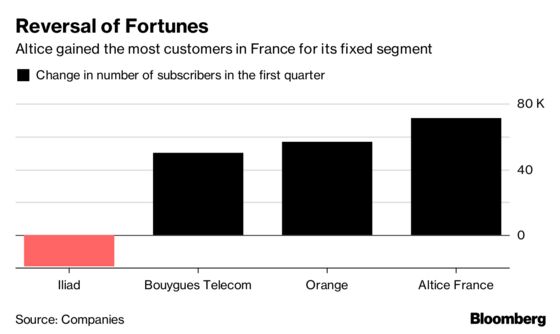 The progress in France may be at the expense of billionaire Xavier Niel's Iliad SA, which is facing a crisis of confidence from investors after posting its first decline in French broadband customers on Tuesday. Iliad shares dropped 20 percent that day, the most since the company went public 14 years ago. Separately on Thursday, Bouygues SA's telecom unit said it gained 50,000 customers in the fixed segment in the first quarter, thanks to "continued good commercial performance."
Altice reported adjusted earnings before interest, taxes, depreciation and amortization that fell 2.3 percent percent to 1.26 billion euros ($1.49 billion), beating the 1.24 billion-euro consensus of company-compiled analysts' estimates. Net debt for Europe stood at 32.2 billion euros at the end of the first quarter.
"Altice Europe has started to deliver on its operational turnaround plan," Drahi, the company's founder and largest shareholder, said in the statement.
Altice's planned divestments, which include towers in France and Portugal as well as assets in the Dominican Republic, are "well advanced," the company said. Drahi this month said he wasn't willing to sell Altice France, after Bloomberg reported that Bouygues SA was considering a bid for the business with other investors.
The spinoff of Altice USA Inc., first announced in January, is expected to go through early next month, allowing the American carrier to pursue expansion without being tied to the parent company's struggles in Europe. Alan Weill, currently chairman and CEO of Altice France, will become CEO of Altice Europe, given the increased prominence of the market after the U.S. spinoff.
"The main question that remains is the sustainability of the performance, given Iliad's expected reaction," Thomas Coudry, an analyst at Bryan, Garnier & Co said in a research note. Iliad has long been known as a major disrupter in the French telecom market, and has in the past taken subscribers from rivals based on discount offers.