Alphawave's London Debut Falls Victim to Global Tech Selloff
(Bloomberg) -- Alphawave IP Group Plc sank 9.8% on its first day of trading in London as the global tech selloff hammered shares of the semiconductor company.
Alphawave, a Canadian company which works on increasing semiconductor power efficiency and speed, priced its shares too expensively given the current environment, investors said. The company raised 856 million pounds ($1.2 billion) in the initial public offering, implying a valuation of 3.1 billion pounds for the whole firm.
"I didn't think it would fall that sharply, but it has launched into a market where tech stocks are under pressure," said Gavin Launder, a fund manager at Legal & General Investment Management who decided against participating in the IPO on valuation grounds.
Alphawave shares closed at 370 pence in London on Thursday, down from the IPO price of 410 pence a share. Earlier in the day, the stock fell as much as 24%.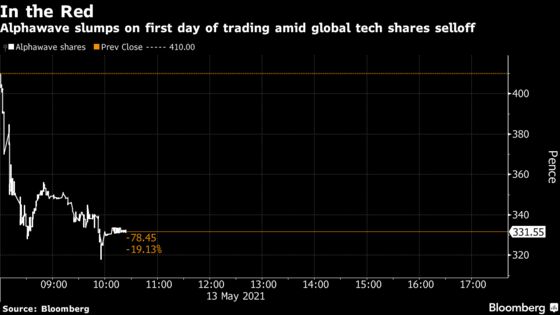 "We are delighted to have listed in London," the company said in an e-mailed statement in response to a request for comment on the pricing and share performance. "We started this journey to be a public company in London for the long-term and we are looking forward to further expanding our business and developing relationships with all of our U.K. and global stakeholders."
Growing apprehension about extreme valuations and the risk that inflation will erode future profits has sparked a worldwide rout across the technology industry this week.
Pricing issues have been at the forefront of London's recent tech IPOs. Cybersecurity company Darktrace Plc surged last month after cutting its valuation by about half before going public. Deliveroo Plc plunged more than 30% in its debut as investors criticized the stock's price, as well as corporate governance and labor practices.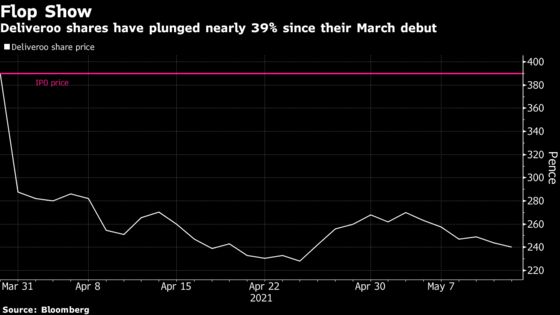 Alphawave's slump is the latest disappointment for the U.K., which has lobbied to encourage more tech companies to go public. The company had said it preferred London because of its record of listing large semiconductor companies, such as Arm Group and Imagination Technologies Group Plc.
"With IPOs, timing is everything and Alphawave launches onto the market on a tide of demand for semiconductors, with shortages of chips disrupting production of cars and electronic goods across the world," Susannah Streeter, senior investment and markets analyst at Hargreaves Lansdown Plc, wrote in a note.
Alphawave raised 360 million pounds from the IPO and existing shareholders accounted for the rest, according to a statement. If there's sufficient demand, underwriters may place as many as 31.3 million additional shares.
Barclays Plc and JPMorgan Chase & Co. are joint global coordinators, while BMO Capital Markets is joint bookrunner.