Alphabet Investors Should Reject CEO's Pay, Proxy Firms Say
(Bloomberg) -- Alphabet Inc.'s executive pay packages have come under fire from a second influential shareholder advisory firm ahead of the Google owner's annual meeting.
Chief Executive Officer Sundar Pichai's pay packet of about $250 million is "excessive" and not aligned closely enough to the company's performance, according to a report from Glass Lewis & Co. seen by Bloomberg. The firm recommended investors reject the company's proposal for executive compensation at its June 3 annual meeting.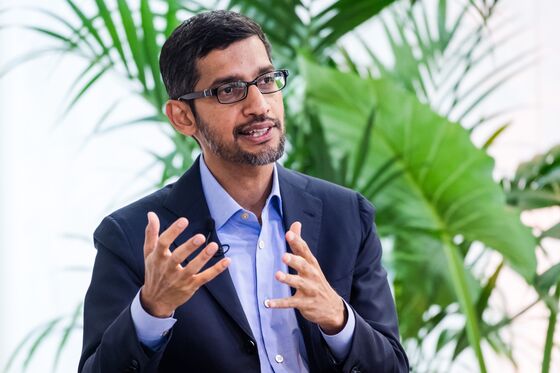 "Shareholders should note the lack of outperformance" in returns relative to the level of pay to be awarded, the report said. "In light of the disconnect of pay to performance and our concerns with the quantum of Mr. Pichai's pay, we do not believe shareholders should support this proposal."
The report echoes an assessment by Institutional Shareholder Services Inc. sent to that firm's clients Thursday, which also recommended shareholders reject the pay plan at the vote, which is advisory and not binding.
The ISS report gave the Mountain View, California-based tech giant the worst possible risk rating for compensation and shareholder rights and also advised investors abstain or oppose the board on 13 of the 24 items on the meeting's agenda.
Representatives for Alphabet did not immediately respond to requests for comment.
ISS said Alphabet investors should withhold votes for four directors, pointing to "poor stewardship of the company's pay programs" for three -- John Doerr, Kavitark Ram Shriram, and Robin Washington -- and absenteeism for the other, Alan Mulally. Glass Lewis recommended withholding a vote for Doerr on concerns around his independence given that his firm, Kleiner Perkins, and Alphabet have invested in some of the same projects. It also recommended rejecting Mulally due to poor attendance.
Both Glass Lewis and ISS supported a shareholder-submitted motion to limit voting rights to one per share, which would end the super-voting Class B shares currently giving founders Larry Page and Sergey Brin effective control despite owning less than 13% of the company.