Cancer Startup Allogene Makes Trading Debut as Largest Biotech to IPO Since 2009
(Bloomberg) -- Cancer startup Allogene Therapeutics Inc. surged as much as 39 percent above its initial public offering price on its first day of trading in the U.S., after the listing valued the company at more than $2 billion.
The stock was up 32 percent to $23.92 at 3:01 p.m. in New York. The IPO priced 18 million shares at $18 each Wednesday night, giving the South San Francisco, California-based firm a market capitalization of $2.05 billion and making it the largest biotech to go public since 2009, according to data compiled by Bloomberg.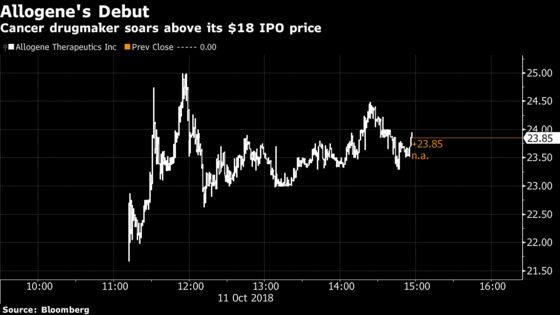 Allogene, whose IPO comes less than a year since the company was formed, had initially marketed shares at $16 to $18 apiece. The deal priced at the top of the range, despite a broader market selloff that sent the Nasdaq Biotechnology Index to the lowest since July. Allogene jumped even as biotechs were down much of the morning.
Analysts were looking for a valuation of at least $1 billion, saying that the company probably gets a "management premium" for CEO David Chang and Chairman Arie Belldegrun's previous experience at Kite Pharma Inc. In 2017, Gilead Sciences Inc. bought Kite for almost $12 billion after a four-year stint as a public company.
Allogene, which raised $324 million in initial gross proceeds, plans to use the funds to advance so-called off-the-shelf CAR-T therapies that use cells from healthy donors, rather than patients' own, so they don't need to be personalized for each cancer patient. Allogene sees initiating human trials for its experimental therapies in non-Hodgkin lymphoma and multiple myeloma next year, and advancing its early-stage study in leukemia in the second half of 2019.
It's also studying the therapies' potential in solid tumors, but has not indicated when it expects such clinical trials to start. Allogene has plans to build its own manufacturing facility and is choosing between three locations in the Bay Area, Chang said in a telephone interview.
Early data in leukemia therapy makes him "thoroughly convinced that allogeneic approach works, and it can provide as much benefit as autologous CAR-T therapy," which uses patients' own cells, he said.
By using cells from donors, allogeneic therapies could be made in large batches and be readily available for treatment. The promise is these treatments will reduce costs, and therefore, be used to treat more patients. Gilead's Yescarta and Novartis's Kymriah, so far the only two CAR-T therapies approved in the U.S, are priced at $373,000 and $475,000, respectively.
Goldman Sachs, JPMorgan, Cowen and Jefferies are underwriting Allogene's offering. The company is listed on the Nasdaq Global Select Market under the symbol ALLO.