Allianz Says Investors Pulled $35 Billion in Choppy Markets
(Bloomberg) -- Allianz SE, the German insurer that owns investment firm Pacific Investment Management Co., saw outflows spike as clients fled volatile markets in the fourth quarter.
Investors pulled 31 billion euros ($35 billion) of funds in the final three months of the year, helping to drive third-party assets under management down by 51 billion euros. Net outflows at the combined units of Pimco and Allianz Global Investors compared with inflows of 15 billion euros in the third quarter.
Money managers worldwide have struggled to hold on to clients' funds after investors got jittery in a global market rout that accelerated late last year. BlackRock Inc., the world's largest asset manager, reported outflows from clients in the same period, marking its third straight quarter of net institutional redemptions.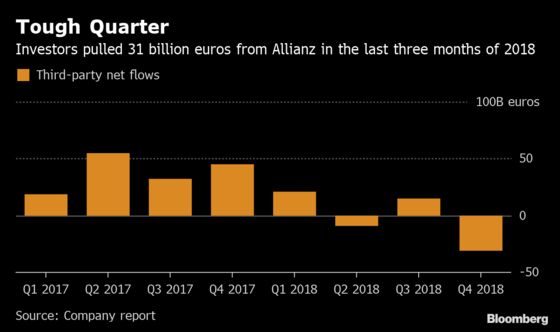 Pimco suffered 29 billion euros in outflows in the fourth quarter in investment-grade credit mainly in its traditional fixed income and emerging market strategies, according to an investor presentation. Allianz Global Investors saw 2 billion euros in outflows in fixed income and equity strategies.
"The threat for Pimco and AGI is that market volatility drives not just lower performance fees," said Charles Graham, senior analyst at Bloomberg Intelligence. "It also leads to further net outflows, which then drives a decline in the average value of assets under management."
Allianz asset management operating profit fell 9.1 percent from the year-earlier period to 633 million euros in the fourth quarter, mostly due to lower performance fees and higher expenses, the company said in the presentation. Management sought to reassure investors, citing net inflows of 5 billion euros at Pimco in the first month of 2019, according to a company webcast on Friday.
"Volatility is just there, but the trend and the tendency should become positive in the mid-term," said Chief Financial Officer Giulio Terzariol.
Allianz rose 1.3 percent at 11:42 a.m. in Frankfurt trading, giving the company a market value of 79 billion euros.
Other Key Results
Fourth-quarter net income rose 18.9 percent to 1.7 billion euros, in line with analysts' estimates.
Allianz raised its dividend for 2018 by 12.5 percent to 9 euros a share, the company said in a statement on Friday. Analysts expected a payout of 8.8 euros, according to the Bloomberg Dividend Forecast.
Allianz lifted its outlook for 2019 operating profit to 11.5 billion euros, plus or minus 500 million euros.
Click here for Allianz's fourth-quarter and full-year earnings statement