Allianz Profit Climbs As Key Unit Reverses Investor Flight
Allianz SE, the German insurer that owns bond giant Pacific Investment Management Co., stopped four consecutive quarters of bleeding assets at its European investment management unit as it beat analysts profit estimates for the year.
The turnaround of Allianz Global Investors comes as a relief for Chief Executive Officer Oliver Baete after the unit had been the weak spot in the insurer's asset management arm last year. Unlike its larger sister unit Pimco, the active manager has struggled with its investment performance and has come under pressure as investors flock to cheaper index funds.
In the fourth quarter, AllianzGI reversed a trend of net outflows as it attracted 2 billion euros ($2.2 billion) from outside clients.
Last year, AllianzGI's Chief Executive Officer Andreas Utermann stepped down after 17 years with the firm and its parent. His responsibilities were split among two other executives.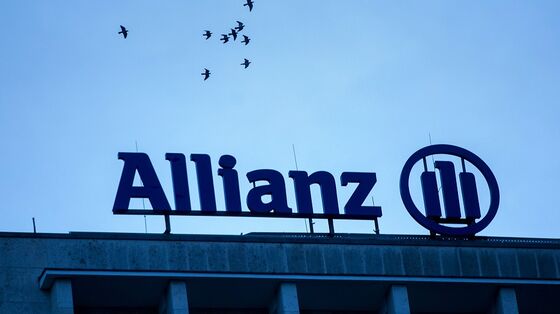 When Baete took the helm at Allianz in 2015, Pimco was the asset management unit that was bleeding assets following the departure of co-founder Bill Gross. The bond management group has since managed to revive its fortunes. In the fourth quarter, it lured another 18 billion euros, bringing Allianz's total assets overseen for investors to a record 1.69 trillion euros.
"The flows for January for our asset management operations were definitely positive," Chief Financial Officer Giulio Terzariol said in an interview with Bloomberg TV. Fallout from the coronavirus would "most likely affect the equities side" and have a lesser impact on fixed income investments which is Allianz's traditional strength, he added.
Shares of Allianz rose almost 1% at 11:50 a.m. in Frankfurt trading, bringing gains this year to 5.3%.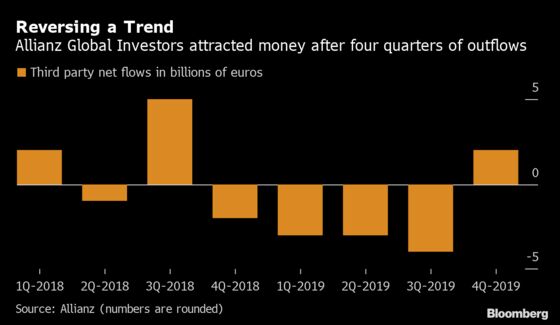 Increasing overall income from asset management as well as life and health insurance helped Allianz to post an operating profit of 11.9 billion euros for the full year, compared to 11.5 billion euros in 2018, while property-casualty insurance was a drag. Analysts polled by Bloomberg had on average expected an operating profit of 11.71 billion euros. For 2020, the company aims to reach 12 billion euros, plus or minus 500 million euros.
Baete has relied on cost cuts, inflows at the asset management unit and smaller deals to lift profit as low interest rates and pressure on prices weigh on the industry. The strategy seems to be paying off as last year's operating profit was the fifth consecutive increase.
The Board of Management will propose a dividend of 9.60 euros per share for last year, up 6.7% compared with 2018, the company said. Analysts expected a payout of 9.50 euros, according to the Bloomberg Dividend Forecast.
The insurer will also start a new share buyback program of as much as 1.5 billion euros. That might bring the total volume of repurchased shares since 2017 to 9 billion euros after the company carried out four buy-back programs for a combined 7.5 billion euros in the last three years.
Baete has been returning capital to shareholders since he has been unable to pull off any bigger deals in property and casualty insurance or in asset management.
Late last year, Allianz took a stake of about 4% in Beijing-based Taikang Life Insurance Co., purchasing the investment from Goldman Sachs Group Inc.. Other smaller transactions in 2019 include the acquisition of automobile and other property-casualty operations from SulAmérica for 667 million euros. The company also agreed in May to buy two insurance businesses in the U.K.
Allianz also announced a change to its management board on Friday. Klaus-Peter Roehler will succeeds Axel Theis, overlooking insurance in German-speaking countries and Central and Eastern Europe from April.
"The results look good. Dividend and operating profit are above expectations. The trend reversal at AllianzGI is positive. The outlook for 2020 is also relatively positive," said Commerzbank AG analyst Michael Haid in a phone interview.
However, the big challenge for the company is to show that it can simplify its business as it embraces digital technology, said Bloomberg Intelligence analyst Charles Graham, citing the launch of online insurer Allianz Direct and the acquisition of the U.K. units. Yet, he said, such retail businesses "face fierce competition in rapidly changing markets."