Algeria Risks Explosion as Bouteflika Defies Protesters
(Bloomberg) -- Fresh calls for protests and strikes rippled through Algeria on Monday, with some warning that President Abdelaziz Bouteflika's determination to run for a fifth term would set the nation ablaze even as he vowed to stand down within a year.
The outburst of anger came almost immediately after Bouteflika's campaign filed his official nomination papers for the April 18 election and the 82-year-old president pledged to amend the constitution if re-elected and announce a fresh ballot. He also promised a fairer distribution of wealth in the OPEC member that has done little over the decades to diversify its energy-dependent economy or create enough jobs for a youthful and increasingly frustrated population.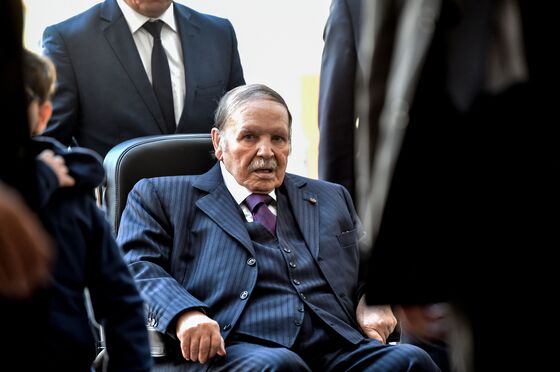 "I have listened and heard the screaming hearts of the protesters and in particular the thousands of youths who alerted me about the future of our nation," Bouteflika, who has been in power since 1999, said in a written statement, vowing to meet "the fundamental demand of the people, which means changing the system."
The announcement fell short of the demands made by tens of thousands of protesters who have taken to the streets for more than a week to pressure him to step aside. It also appeared to stir dissent within the ranks of the ruling FLN party. Parliamentarian and former agriculture minister Ahmed Feroukhi resigned, as did Badis Bouloudnine, a member of the FLN's central committee.
Bouteflika needs to withdraw his candidacy, former Prime Minister Ali Benflis, who was among the key challengers to withdraw from the April vote, said on the pan-Arab Al-Hadath satellite channel. "This is a farce and a mockery," he said, adding that "seeking a fifth term will ignite the country."
Benflis said Algerians had overcome their fears, a characterization that bodes ill for leaders who've implored the population not to risk triggering instability in the North African country. Algeria was barely touched by Arab Spring protests that toppled autocratic rulers around the region in 2011.
But what happens in the North African country, a bulwark against Islamist militancy and migration from sub-Saharan Africa, is being closely watched across the Mediterranean in Europe but has yet to ruffle oil markets.
An expensive safety net of subsidies paid for by energy exports helped Algeria avoid instability during the Arab Spring, but can't be sustained in the long term under cheaper oil. That has thrown open the door for unrest in country where two-thirds of the population is under 30 and youth unemployment is endemic.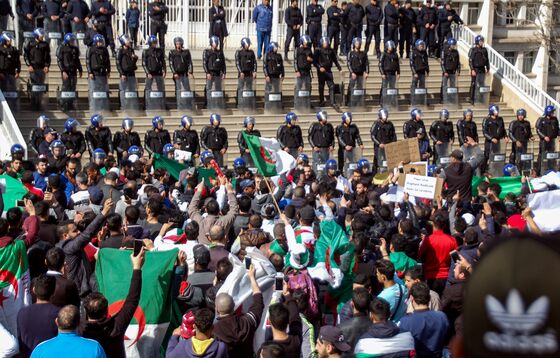 Demonstrators rallied overnight in Algiers and other cities and the hashtag "civil disobedience" was trending on Twitter in Algeria on Monday.
Police used water cannon on Sunday to disperse protesters who converged on the Constitutional Council in Algiers, where presidential hopefuls must register. At least eight candidates have registered to run against Bouteflika, but they are not expected to present any real challenge.
After days of conflicting rumors and speculation that he may bow out, it had become increasingly clear as the midnight deadline for electoral registration loomed that Bouteflika would try to stay on.
The president retains a loyal following, especially among many older voters, while the opposition is fragmented and without a clear leader. Bouteflika has in past elections won more than 90 percent of ballots, results dismissed by human-rights groups and challengers as rigged.
Credited with restoring calm after a decade-long civil war, Bouteflika has rarely been seen in public since suffering a stroke in 2013 and is currently believed to be in Geneva for medical treatment. Bouteflika's statement was released on state media shortly after his campaign manager, Abdelghani Zalene, arrived at the Council to formally submit the electoral paperwork on his behalf.
The protests have largely been peaceful, demanding that Bouteflika end his rule at four terms and calling for a new government that can create jobs and improve the standard of living. They've drawn a wide range of people, including business leaders.
But leaders within "le pouvoir," a loosely defined ruling coalition including the military, appear unable to agree on a replacement. Some have described Bouteflika's proposal as a peaceful way out of the political crisis. It also helps to buy time for a regime struggling to find its way forward.
This "will ensure a soft exit out of this crisis," Mohamed Kissari, a lawmaker from the ruling FLN party, told the private Echourouk TV.