America's Top Aluminum Maker Is Getting Hit by U.S. Tariffs
(Bloomberg) -- U.S. aluminum tariffs that were meant to protect the industry from foreign competitors are instead taking a bite out of the earnings of the nation's largest producer.
Alcoa Corp. lowered its 2018 profit projection as tariffs on imported aluminum present what Chief Executive Officer Roy Harvey is calling a "significant" headwind. The company has been hit with $15 million in costs so far on material it made mostly in Canada and shipped to the U.S. It also cited lower aluminum prices and higher energy costs for the cut. Alcoa shares slid.
The forecast adds to concerns for commodity investors over the potential impact of the tariffs, with metal prices and producer shares languishing amid growing concern that a trade war could hamper economic growth. Harvey zeroed in on the levies slapped on shipments from Canada, where Alcoa was expected to make 28 percent of its primary aluminum this year, according to Bloomberg Intelligence.
"Everyone assumed as did we that there would be an exception in place for Canadian production, so that has turned out not to be the case and that is a pretty significant impact for us," Harvey said in a phone interview.
Adjusted earnings before interest, tax, depreciation and amortization is forecast to be $3 billion to $3.2 billion, down from a previous estimate of $3.5 billion to $3.7 billion, Alcoa said in a statement Wednesday.
Harvey said that while demand remains robust, there are concerns that industrial customers could eventually move operations outside of the U.S. so they can buy metal that's not subject to the duties.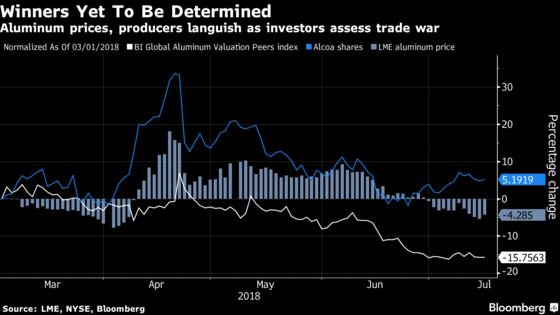 At the same time, the Pittsburgh-based manufacturer reported higher-than-expected sales and earnings for the second quarter.
Aluminum has slipped about 26 percent from an almost seven-year high reached in April in the wake of U.S. sanctions on Russian producer United Co. Rusal.
"The guidance cut is mostly due to lower commodity prices as Alcoa's guidance is based on current prices, but higher energy costs and U.S. tariffs were also factors," Chris LaFemina, an analyst with Jefferies LLC who rates the stock a "buy," said in a note.
Alcoa fell 8.8 percent to $43.73 a share at 10:25 a.m. in New York, on pace for the biggest loss in almost three months. The shares are down 19 percent this year. Chicago-based Century Aluminum Co., the second-biggest U.S. producer, fell as much as 9.1 percent to $13.54, the lowest since December.
The company also said it sees a deeper global production shortage in the metal this year as it pared its outlook for excess supply coming out of China.
Demand will exceed supply by 1.1 million to 1.5 million metric tons, Alcoa said Wednesday in its earnings presentation. That compares with an April forecast for a deficit of 600,000 to 1 million tons.