Albertsons' Safeway Buys Back Notes to End Default Claim
(Bloomberg) -- Albertsons Cos.' Safeway unit repurchased more than $330 million of bonds in a deal with holders that resolves allegations of a debt default triggered by Safeway's takeover.
The company bought back the bonds at par plus accrued and unpaid interest, covering notes due in 2031 and 2027, according to a regulatory filing. They were repurchased from a group holding just over 50 percent of the Safeway notes, according to people with knowledge of the matter, who asked not to be identified because the discussions are private. The transaction results in the release of claims by both sides, the people said. A representative from Safeway didn't provide a comment on the matter.
Safeway bought back the bonds to end the dispute in part because of concern that the dispute would threaten future efforts to rework the company's debt load, one of the people said. Albertsons has already refinanced part of its term loan to further its long-term goal of cutting leverage.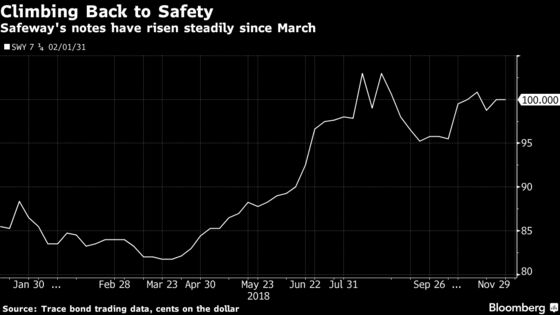 The dissent was originally rooted in Albertsons' 2015 takeover of Safeway, which bondholders said violated the terms of their notes. Albertsons sued, calling the claims an attempt to extract "an undeserved windfall."
The supermarket chain listed more than $11 billion of debt in its annual report, with around $600 million of Safeway 7.25 percent unsecured bonds due 2031. The buyback covers about $309 million of those notes, according to the filing. The 2031 Safeway notes traded for less than 82 cents on the dollar in March, but have since rebounded to par.
The case is Index #655579/2018 in the Supreme Court of the State of New York, County of New York