Alberto Could Strengthen Sunday as It Blows Across Gulf to U.S.
(Bloomberg) -- Subtropical Storm Albert will strengthen Sunday, making itself felt from Mississippi to Florida as it moves north in the Gulf of Mexico. It's had little impact on offshore energy production, but threats for onshore flooding are high, the National Hurricane Center said.
Albert could become a full-fledged tropical storm rather than a hybrid, with top winds of 65 miles (105 kilometers) per hour as it pushes deeper into the Gulf Sunday into Monday, Daniel Brown, a hurricane center meteorologist wrote in a forecast analysis. A storm's winds need to reach 74 mph to be called a hurricane.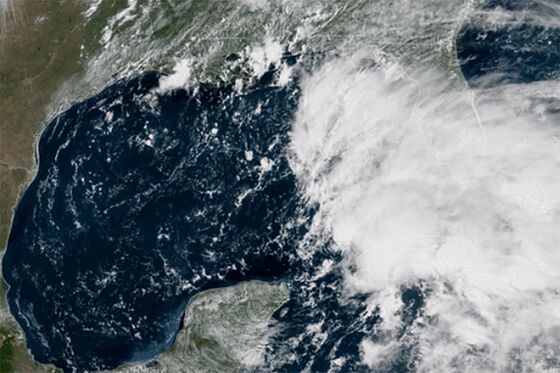 "Tropical-storm-force winds and a hazardous storm surge are possible along portions of the central and eastern U.S. Gulf Coast beginning on Sunday," Brown wrote from the center in Miami. "Dangerous surf and rip current conditions will likely spread northward along the eastern and northern Gulf Coast through Monday."
On Friday, Exxon Mobil Corp. pulled non-essential personnel from its Lena oil production platform and Royal Dutch Shell Plc shut in its Ram Powell hub, but most other energy companies are leaving offshore crews in place while they watch 2018's first Atlantic storm.
Alberto has formed days ahead of the official start of the six-month Atlantic hurricane season on June 1. In the end, it might not be wind and disruption to energy production that the storm is best known for.
"The number one threat to land is going to be the rainfall and the flooding," said Dan Pydynowski, senior meteorologist at AccuWeather Inc. in State College, Pennsylvania. "We're already seeing the rain in Florida and it is going to keep pushing northward."
Tropical storm warnings and storm surge watches are now focused on the Gulf coast from Mississippi to Florida, as Alberto's path becomes clearer. Previous advisories for the Louisiana coast have been dropped.
The storm's winds of 40 miles (64 kilometers) per hour remained unchanged through most of Saturday. It was about 170 miles southwest of the Dry Tortugas in the Florida Keys, the hurricane center said in a 5 p.m. New York-time advisory.
Flood and flash-flood watches are spread across Louisiana, Mississippi, Alabama and Florida, where 4 to 7 inches (10 to 18 centimeters) of rain could fall through early next week, the U.S. Weather Prediction Center said.
Storms in the Gulf are closely watched because 5 percent of U.S. natural gas and 17 percent of crude-oil production comes out of the region, according to the Energy Information Administration. Onshore areas along the coast also account for about 45 percent of U.S. refining capacity and 51 percent of gas processing.