Alarmed Aid Recipients Turn to App After Shutdown Spurs Windfall
(Bloomberg) -- The U.S. government shutdown is causing thousands of Americans to tighten their belts and keep a close eye on expenses.  But for some of the roughly 38 million people who receive federal aid from the Supplemental Nutrition Assistance Program, an unexpected windfall of February's allowance in the middle of January was cause for concern. 
Many sought help from a popular app called Fresh EBT from Propel Inc., a startup that lets food aid recipients check their balances and manage benefits on their smartphones. They wanted a way to avoid the temptation to overspend this month and risk blowing what could be their last payment until March or later. And they wanted answers to the many questions they had about how they would continue to eat with part of the federal government closed.
Brooklyn, New York-based Propel drew more than one million unique users on Jan. 17, about double the number that typically visit the app on any given day. Concern about the shutdown has boosted total visitors to the app to more than 2 million this month, up from 1.6 million in November. The company responded by rolling out a new feature this week that will let people hide a certain portion of their balance until a later date. It's not technically moving money around; rather it changes the balance displayed to help users budget. Like hiding the cookies in the back of the cupboard.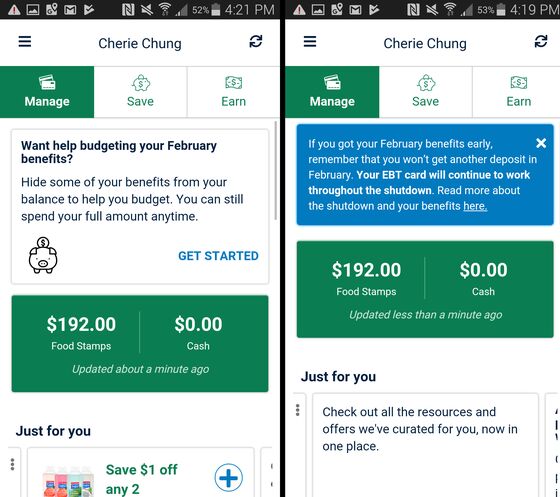 Propel said it found, in work with Common Cents Lab, a Duke University-affiliated behavioral economics research group, that users of Fresh EBT, who typically get their benefit deposit once every 30 days, tend to spend about 80 percent of their benefits within the first nine days.
"For folks who got this early benefit and then are not going to receive benefits until at minimum March, I think there's some concern that it's going to be really tough for them to budget with the benefit that they have, to last throughout all of February," Chief Executive Officer Jimmy Chen said in an interview. "We're trying to make it a little bit easier for people."
Chen, 31, is a former product manager at Facebook Inc. He left the social media giant in 2014 for a fellowship at Blue Ridge Labs at Robin Hood, a program that creates and supports early-stage social tech ventures in New York. It was there that the idea for Propel was born. Propel has raised about $18 million from investors, including venture capital firm Andreessen Horowitz.
"We had this belief that technology could be much more useful for a lot of underserved populations," said Hannah Calhoon, managing director at Blue Ridge Labs. The goal of the program was to get people like Chen "to decide that instead of building Instagram for cats, they wanted to figure out how to help people more effectively interact with government systems."
Fresh EBT, refers to the the electronics benefits transfer card that holds the allowance from the Supplemental Nutrition Assistance Program, commonly known as food stamps. Typically beneficiaries have to dial a number on the back of the card to check their balance. Fresh EBT  gives people access to their balance on their phone, in addition to notices about sales going on at local stores, coupons, recipes for healthy eating on a budget and job opportunities. The app is free and available in all 50 states. The company gets its revenue from third parties, like grocery stores that share coupons and employers posting job listings.  "All of that content is screened to make sure that it's only focused on improving the financial health of people who use the app," Chen said. 
The U.S. Department of Agriculture used a funding bill that expired just before Christmas to authorize the early payments, which required those benefits to go out by Jan. 20. The partial government shutdown, now running over 30 days, has left more than a dozen major departments and agencies without funding. Paychecks for some 800,000 government employees have been halted, with workers set to miss a second paycheck this Friday.
Propel has been posting information on its app and on a blog, detailing how the government shutdown will affect recipients of food stamps. It addresses questions like "Do I have to spend all my benefits before the end of January?" and "When will I get my next food stamp deposit?"
"We've heard from a lot of consumers this concern that the EBT card will just stop working in February or that the government will take back all the benefits that have been deposited if they're not spent in January. Those are both not true," Chen said. "If people believe those things, it drives them to do things that end up being not in their own self-interest."
The agriculture department has said there may not be enough money to keep funding food aid benefits past February. That spending accounts for about 10 percent of the food U.S. families buy, with purchases spread across some 260,000 retailers, according to the Center on Budget and Policy Priorities.
"We're still pretty uncertain about what's going to happen in March if the shutdown continues," Chen said. "So I think there may be a whole new set of challenges then."