Airstream Parent Bets $2.5 Billion on RV Growth in Europe, China
(Bloomberg) -- Thor Industries Inc. agreed to buy German motor-home builder Erwin Hymer Group in a cash and stock deal valued at 2.1 billion euros ($2.5 billion), the Airstream maker's biggest acquisition ever and its first step outside North America.
The acquisition gives Thor a chance to grow along with European recreational vehicle markets that, in places like France and Germany, are already stronger than in the U.S., Chief Executive Officer Bob Martin said in an interview. Some of this growth will come through acquisitions of smaller European companies, and some will come as countries like Poland and Slovenia embrace RVs for the first time, he said.
In addition, the joint venture Hymer announced last month with Lingyu Group gives Thor a head start as China begins to build RV campgrounds, said Martin, 49. "The strongest brand is the first brand in, and buying Hymer gives us that entrance to China," he said.
The deal should boost profit from the first year on, Martin said earlier in a statement. Bloomberg News reported last month that Thor was among the bidders for Hymer and set to prevail over the rival bids from private equity firms.
Thor shares rose 5.1 percent to $102.56 at 12:22 p.m. New York time after jumping as much as 13 percent, the biggest intraday gain since November.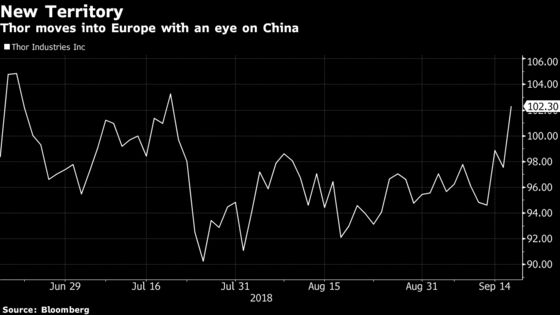 The Hymer family will receive 2.3 million Thor shares or a stake of roughly 4 percent in Thor. "Thor Industries and the Erwin Hymer Group are made from the same cloth with a corporate culture established by founders," said Christian Hymer, son of the late company founder Erwin Hymer. Thor said it will buy back shares over time to offset dilution related to the deal.
A combination with Hymer would make "strategic sense for Thor given no regional overlap," analysts from Great Lake Review said in a recent note.
Bad Waldsee, Germany-based Hymer traces its roots to 1923 when Alfons Hymer, a coachbuilder, founded a business producing agricultural vehicles. In 1957, his son Erwin Hymer helped develop their first caravan, called the Ur-Troll. Now with about 7,300 employees, Hymer recorded 2.5 billion euros in revenues in its most recent fiscal year and 250 million euros in earnings before interest, taxes, depreciation and amortization.
Thor, founded 1980, is expected to record $8.3 billion in sales in its fiscal year that ended July 31, according to analysts surveyed by Bloomberg, up from $4.6 billion just two years earlier. Headquartered in Elkhart, Indiana, and employing about 17,800 people, Thor generates more than 90 percent of its revenues in the U.S., with most of the rest coming from Canada. It's slated to report fourth-quarter results on Thursday.
In the interview, Martin attributed Thor's rapid growth to its 2016 acquisition of rival Jayco Inc., and to its success in reaching a new generation of U.S. consumers in their 30s with RVs that are smaller and cheaper than the 45-foot, $70,000 motor homes that were popular with their parents. Today, about three-quarters of the company's U.S. sales come from RVs mounted on a trailer. Some of these trailers are just 18 feet long and can be purchased for less than $15,000, he said.
"When everybody hits 30, it hurts to sleep on the ground," he said.