Airlines Face Another Summer Writeoff As Virus Barriers Persist
(Bloomberg) -- Airlines should brace for another harsh summer season with demand for travel not likely to pick up until the second half of the year at the earliest, according to an analysis by Midas Aviation.
What's usually the busiest time for vacations is likely to be as quiet as 2020, when plans for a significant recovery from the early months of the coronavirus pandemic never materialized, said John Grant, partner at Midas. Carriers are expected to slash two-thirds of the seats they currently have scheduled for the coming months, according to the report.
The predictions reflect a resurgence of infection rates in many countries, debates that have slowed the pace of vaccine rollouts and government dithering over travel restrictions, said Grant, who is also chief analyst at aviation data group OAG.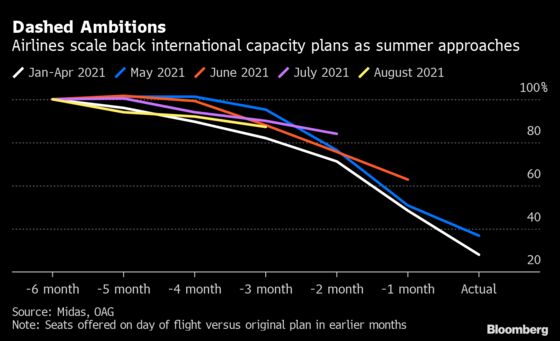 Deutsche Lufthansa AG this week reined in capacity plans for 2021 to 40% of pre-pandemic levels, and London's Heathrow airport -- Europe's busiest in normal times -- cut passenger forecasts. Moves by the U.K., Singapore, the United Arab Emirates and others to impose restrictions on new virus hotspot India are also a blow, as that country's carriers had made significant strides toward a full recovery.
Despite progress in vaccine rollouts in many parts of the world, governments have become cautious about restarting travel to prevent the import of new variants that could prove resistant to jabs.
The U.S. has put 80% of the world on a no-go list, while the U.K.'s plan to classify countries ahead of reopening travel next month is expected to include very few that won't be subject to quarantine rules. The European Union, which has trailed every other region by far in travel recovery, aims to introduce vaccine passes meant to ease travel by June.
"Lots of talk, lots of discussion but nothing that will provide reassurance to someone to make a booking and put a couple of hundred pounds on an airfare," said Grant.