Airline Czar Slams Brexit Chaos as 'Risky, Crazy, Unprofessional'
(Bloomberg) -- The head of an industry group representing almost 300 of the world's biggest airlines slammed an impasse that threatens to ground planes after Brexit as unprofessional and showing disdain for passengers who have bought tickets in good faith.
A deal removing the risk of disruption to flights when Britain leaves the European Union on March 29 must be hammered out within weeks or bookings will begin to suffer, International Air Transport Association Chief Executive Officer Alexandre de Juniac said in an interview.
While tickets for the period immediately after Brexit -- which coincides with the start of the airline industry's summer season -- have been available for months, the main sales rush should be just beginning, De Juniac said Tuesday at Bloomberg's European headquarters in London.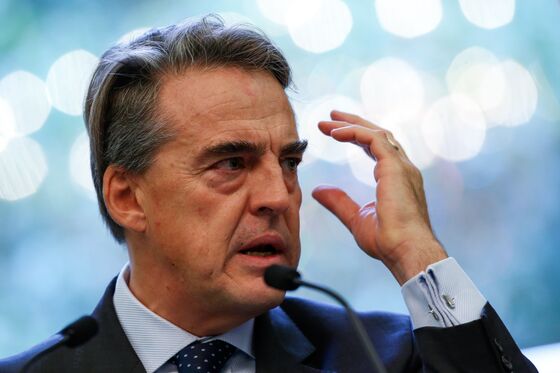 "The massive sell out is now, six months in advance," he said "Everybody thinks there'll be a solution and so they're not deterred from buying a ticket. But the closer we get to April, the more uncertain things are and the bigger the impact will be."
IATA said last year that airlines faced an effective October deadline for concrete measures guaranteeing the continuation of services beyond Brexit. Instead, Britain on Monday published aviation guidelines for a no-deal split that highlighted the risk of disruption to flights from a possible EU refusal to extend both traffic rights and technical approvals of aircraft and parts.
IATA, which represents about 290 airlines accounting for more than 80 percent of global traffic, will publicly make its concerns more explicit if nothing is forthcoming soon, De Juniac told Bloomberg. The notion that the issue of grounded flights could be addressed in the final hours approaching the Brexit deadline is nonsensical, he added.
"It is crazy," the former Air France-KLM Group chief said. "To think that you could negotiate such technical matters in the last hours on as sensitive a subject as aviation, with the safety issues. It's totally unprofessional, risky and disrespectful to the passengers who will have bought a ticket."
Half of Britons meanwhile reckon flight delays and cancellations are likely to occur in the aftermath of a hard Brexit, with 53 percent believing that travel between the U.K. and EU will become more difficult, according to the results of a poll of 3,000 people by KPMG, released Tuesday.
A no-deal split from the EU appears more likely as U.K. Prime Minister Theresa May struggles to secure domestic support for her so-called Chequers proposals for a settlement while also facing opposition from the bloc's chief negotiator Michel Barnier and other leading figures.
Under such a scenario, Britain says that while it will continue to recognize European Aviation Safety Agency certifications for up to two years, flights are at risk because there's no guarantee of reciprocal acknowledgment for planes, parts, pilots, cabin crew and engineers approved by the U.K.
British airlines would also be required to apply to EU states in order to continue flying after a no-deal split, according to a separate bulletin, while talks are underway to establish air service treaties with 17 countries with which current deals were signed by the EU.
De Juniac said a trade war between the U.S. and China hasn't yet had an impact on airlines, since President Donald Trump's tariffs have been confined largely to goods that aren't generally transported by plane, such as steel, aluminum and car parts.
The rising oil price has had a more negative effect, especially where it has coincided with a weakening of the local currency, as in India, Turkey and Persian Gulf states, the IATA chief said.
At the same time, traffic was generally buoyant in the northern summer, with occupancy levels high, especially in Europe and the U.S., so IATA isn't currently considering a cut to its guidance for industrywide net income of $33.8 billion this year. The estimate was reduced from $38.4 billion in June as earlier fuel-price rises and labor costs began to eat into earnings.