Airbus Books Slew of Lost Orders While Deliveries Lag Output
(Bloomberg) -- Airbus SE suffered a surge in order cancellations last month as Norwegian Air Shuttle ASA scrapped narrow-body jet purchases and a wave of coronavirus lockdowns pushed back expectations for a revival in air travel.
The European planemaker lost 92 commitments in February, it said in a statement Friday, 88 of them from the Scandinavian discounter, which is seeking to restructure under bankruptcy protection. The manufacturer suffered only 115 lost orders in the whole of 2020.
While the hit from Norwegian wasn't unexpected, a more fundamental concern surrounds Airbus's ability to get other customers to keep on taking planes. The company handed over only 32 in February, less than the number assembled. The weak start to 2021 may explain its surprise announcement last month that deliveries would most likely be flat for the year.
The balance of shipments to the current build rate of about 50 planes a month points to an increase in undelivered jets. That tally was already around 100 in mid-February according to comments from Chief Executive Officer Guillaume Faury, including a number of "white-tails" lacking a customer.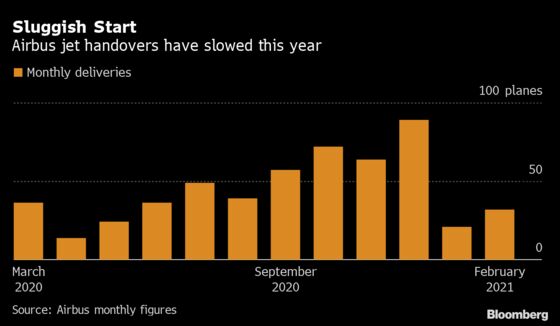 Jefferies analyst Sandy Morris said the trend could jeopardize a planned ramp-up in A320neo narrow-body production planned for the second half if it persists. Airbus set a brisk pace for jet handovers in the final months of 2020 as it raced to boost year-end tallies.
A lawyer for Norwegian Air told an Irish court on Feb. 24 that the carrier was nearing an agreement to end deliveries from Airbus as part of a restructuring that's seen it enter a so-called examinership process.
Airbus secured 11 new orders in February, comprising a deal for 10 A320s from an undisclosed buyer plus a single A330 wide-body.
Boeing Co. is meanwhile accelerating deliveries of its single-aisle 737 Max after the jet was grounded for 20 months following two fatal crashes.
The U.S. firm handed over more planes than Airbus for the first time in two years in January as it began to clear a backlog of 737s, though the build rate remained lower at 26 jets across all models, according to Barclays. It's slated to announce February figures on Tuesday.