Airbus Stems Cash Outflow, Charts Path Through Covid Crisis
(Bloomberg) -- Airbus SE was able to stop bleeding cash in the third quarter, providing a platform for the planemaker to embark on a recovery when the Covid-19 pandemic eventually eases.
After burning through 4.4 billion euros ($5.2 billion) in the second quarter, the European company generated 600 million euros in adjusted free cash flow during the three months through September and said Thursday it's on track to meet a target of "at least" break-even in the final period of the year.
The update adds to mounting evidence that Airbus has fended off the most dire impact of the unprecedented aviation crisis, even as virus cases surge in the U.S. and Europe. Chief Executive Officer Guillaume Faury has so far balanced staff and output cuts with aggressive efforts to preserve the planemaker's order book and supplier base, and is working on plans to increase production of its most popular narrowbody jets from next year.
"We're quite satisfied with the third quarter," Faury said in an interview with Bloomberg Television. "I can't say if the worst is behind us but what I can say is the plan we've put in place is delivering the results we were expecting so far."
The cash-flow forecast indicates a more optimistic approach than arch rival Boeing Co., which said Wednesday it will cut 7,000 more jobs to adapt to the jet market's "new reality." Even so, Airbus said its fourth-quarter forecast hinges on "no further disruptions to the world economy," air traffic, and internal operations.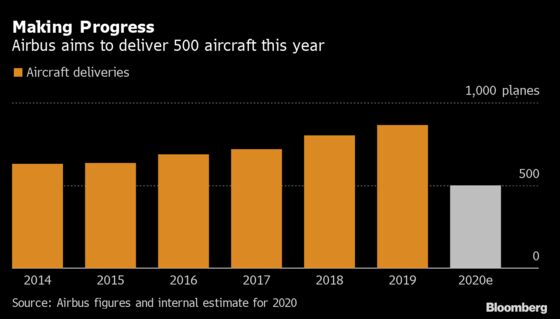 The shares fell 3.3% to 59.72 euros as of 12:38 p.m. in Paris, taking the year-to-date decline to 53%.
Airbus delivered 145 planes in the third quarter, as travel demand remained subdued, compared with just 28 jetliners for Boeing. The company surprised the market last week, telling suppliers to be ready to support an increased monthly rate of 47 A320neo-family planes in the second half of 2021.
Airbus is "sitting more comfortably," Jefferies analyst Sandy Morris said in a note to clients. "After a gruesome second quarter, to reach this point so soon is remarkable."
The planemaker, which announced plans to cut 15,000 jobs in July, posted a restructuring charge of 1.2 billion euros, mainly due to the cost of voluntary and compulsory cuts, leading to a third-quarter net loss of 767 million euros. While it's too early to rule out further job cuts, Faury isn't planning any more for now, he said.
Airbus has also cut production to get through the downturn, reducing output by about a third in April. The company said its plan to ramp-up output of the A320neo family next year was based on commitments from customers.
Faury told Bloomberg Television that the backlog of A320 aircraft had remained strong despite the pandemic, and the lack of cancellations was a "very positive sign." More than 80% of aircraft deliveries this year have been from the A320 family, as demand for widebody aircraft fell along with the slump in international travel.
Still, in an earlier call with journalists, he declined to give an overall delivery forecast for this year, an indication of the uncertain environment as airline customers struggle through the winter season. Airbus has seen some big customers defer aircraft orders, with Delta Air Lines Inc. recently moving to delay $5 billion of deliveries until after 2022. The company is expected to hand over about 500 jets in 2020, compared with 863 last year.
"There's complexity in predicting deliveries in the environment we're in," said Faury. "We wanted to converge production and deliveries, this is what we've done and we want to keep doing this toward the end of the year and in 2021."
Airbus' earnings come as France and Germany, home to the company's main production sites, have both imposed month-long lockdowns. Faury said the company was well-prepared after the first raft of restrictions from March and doesn't expect any disruption to production or deliveries from the latest measures.