Airbus Set to Report April Delivery Drop After Bumper March
(Bloomberg) -- Airbus SE handed over at least one-third fewer jetliners in April than in the previous month, according to people familiar with the matter.
The European planemaker is set to report aircraft deliveries in the mid-40s for April, based on a preliminary tally, the people said, asking not to be identified before the figures are finalized. Monthly order-and-delivery results are scheduled to be published on Friday after the market closes.
In March, Airbus saw a surge in deliveries to 72 planes, lifting the total for the first quarter to above the mostly pre-pandemic first quarter of 2020. In a Bloomberg Television interview last week, Chief Executive Officer Guillaume Faury sought to downplay expectations, saying that April didn't get off to a strong start.
Jet handovers are key to getting cash in the door and Airbus' ability to persuade existing customers to meet their commitments where possible has paid off throughout the pandemic. First-quarter results delivered last week reflected the third straight quarter of positive cash flow.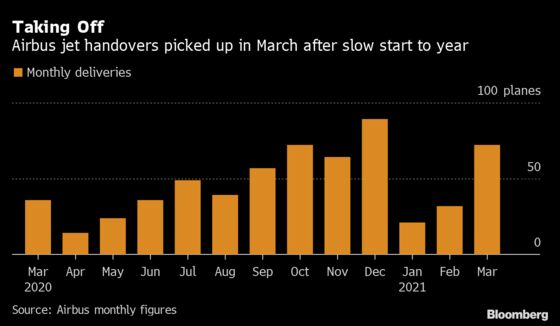 The slowdown in April may reflect the aftermath of a push to get customers to take deliveries ahead of the first quarter results. Last week, Faury also called out India, where a strong domestic air-travel market has helped to support deliveries, as an emerging worry due to its dramatic surge in Covid-19 cases.
Airbus had no immediate comment.