Airbus Closes In on $18 Billion China Deal Despite U.S. Spat
(Bloomberg) -- China's escalating trade war with the U.S. has revived prospects of an $18 billion jet order from Airbus SE, with a high-powered delegation from the European planemaker seeking to seal the sale during a visit to Beijing, according to people familiar with the matter.
The possible order for about 180 A320 Neo narrow-body planes, first touted in January, will be discussed during the trip involving Airbus Chief Executive Officer Tom Enders and commercial aircraft president Guillaume Faury, said the people, who asked not to be named as the talks aren't public.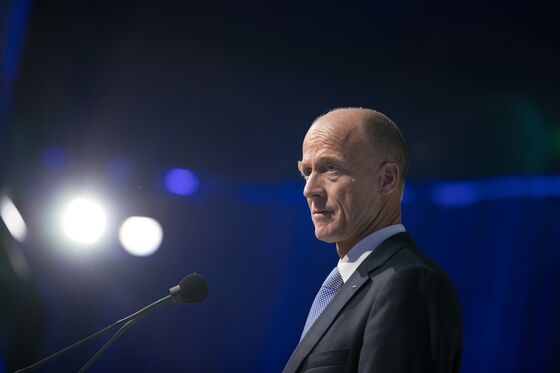 The executives are in China to commemorate the 10th anniversary of Airbus's first Chinese assembly line and the opening of a helicopter plant. The European company said it doesn't comment on the travel plans of management or confidential discussions with customers. The CAAC, China's aviation regulator, said Wednesday it had met with Faury, without elaborating on the context.
"The timing of this will not be a coincidence," said Sash Tusa, an analyst at Agency Partners in London. "The Chinese are political in the way they announce deals, they use aircraft orders as a means of doing international politics."
While a final deal may not be reached, President Xi Jinping is keen to parade the purchase at the China International Import Expo in Shanghai from Nov. 5, where a series of deals demonstrating the nation's role in global trade is expected to be announced, according to the people. The order could also take center stage at the Zhuhai air show in southern China, starting a day later.
Airbus closed 3.2 percent higher at 108.48 euros in Paris, taking gains this year to 31 percent and valuing the planemaker at 84 billion euros ($99 billion).
China has become a battleground for Airbus and Boeing Co. as the manufacturing titans seek to dominate an aviation market expected to become the world's biggest early next decade. The government, which negotiates its aircraft deals via a central purchasing group, typically splits orders between the planemakers to meet its rapid expansion goals.
China has traditionally conflated aircraft orders with a broader geopolitical perspective, which given the ratcheting trade dispute with the U.S. currently favors Airbus, said Rob Stallard, an analyst at Vertical Research Partners.
Ultimately, though, the Toulouse, France-based company doesn't have the spare capacity to displace its rival without having a serious impact on the expansion plans of Chinese airlines, Stallard said.
China has fired warning shots at Boeing in its trade dispute with President Donald Trump, threatening a 25 percent tariff on imports of 737 narrow-bodies that are nearing the end of their production run. The duties, which haven't been implemented, would stop short of impacting the U.S. company's upgraded 737 Max series.
An order for Airbus wouldn't by itself indicate that China was intent on excluding Boeing. The A320 deal has already twice failed to materialize during visits to Beijing by French President Emmanuel Macron and Prime Minister Edouard Philippe, and with the planemaker operating the assembly line for the model in Tianjin, east of Beijing, China already has sufficient incentive to buy more of the aircraft.
The Airbus visit also presents an opportunity for new sales chief Christian Scherer to meet with key Chinese figures after his appointment less than two weeks ago, the people said.
Airbus already holds a strong sales position in China backed by its local production of the A320, said John Strickland, a director of JLS Consulting in London.
"Securing a substantial large order in this fast growing domestic market would be a real plus for Airbus, and for the Chinese would send a clear signal to the U.S. over the escalating trade war," he said.