Airbus's Flying Taxi Is Poised for Takeoff Within Weeks
(Bloomberg) -- Airbus SE's prototype flying taxi will take to the skies in coming weeks after powering up for the first time toward the end of last year.
The CityAirbus will be trialed at the planemaker's helicopter plant in Donauworth, Germany, it said Wednesday. Initial flights will be unmanned as Airbus seeks to establish the four-seat model's capabilities for full autonomy and focuses on tests that don't require a pilot.
Resembling a larger version of current hobby drones, the CityAirbus is designed to operate within urban environments at three times the speed of average road vehicles. The aircraft, which is propelled by electric motors and can take off and land vertically, could enter service as early as 2023.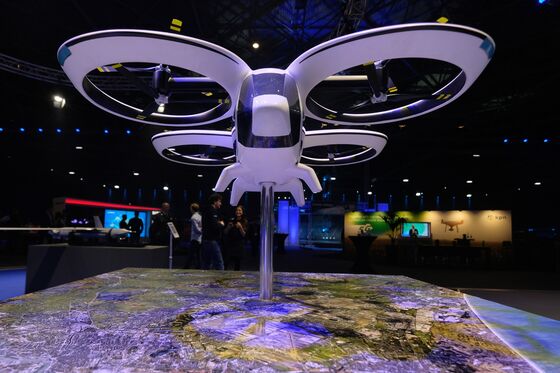 Flight testing will begin with brief takeoffs, building up to longer missions, Airbus Helicopter spokesman Guillaume Steuer said. Should the project get the go ahead, the model would fly either with a full load of passengers or three passengers and a pilot, depending on the regulatory situation at the time.
Boeing Co.'s rival PAV model made its first test flight on Tuesday, completing a takeoff, hover and landing in Manassas, Virginia. Airbus's single-seat, self-piloting Vahana air taxi, developed by its A3 think tank in Silicon Valley, first flew last year. Many other concepts are also vying to be first to market.
Airbus delivered 356 helicopters in 2018, a drop of 13 percent that extends recent trends amid lackluster demand from the oil industry.
Gross orders gained 18 percent to 413, with Airbus maintaining its lead in civil and government markets and boosting military sales.