Airbus Profit Doubles as Jet-Delivery Delays Begin to Ease
(Bloomberg) -- Airbus SE's second-quarter profit doubled as deliveries of its best-selling jetliner picked up, overcoming delays at engine providers.
The stock rose the most in five months to a record Thursday after Toulouse, France-based Airbus said adjusted earnings before interest and tax rose to 1.15 billion euros ($1.35 billion) from a restated 572 million euros a year earlier.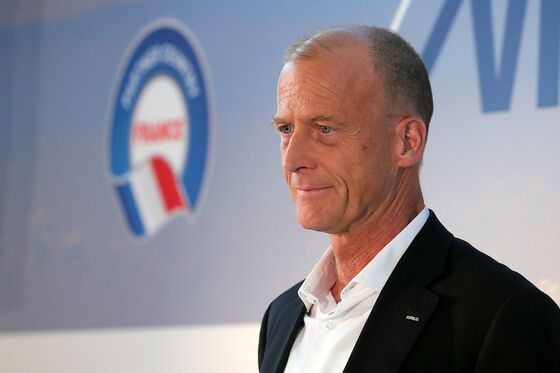 Payments for re-engined A320neo narrow-body planes had been held up by a halt in handovers of Pratt & Whitney turbines, which have been dogged by a series of glitches, and manufacturing issues concerning aircraft powered by General Electric Co.-led CFM International. Airbus has since made headway in paring the number of idled jets, with 110 Neos delivered in the first half.
"Our operational focus in commercial aircraft remains squarely on securing the production ramp-up," Chief Executive Officer Tom Enders said. Neo deliveries surpassed those for the original A320 model in the second quarter and the company stood by a goal of 800 handovers across its full aircraft lineup for 2018 as a whole, while adding that the target remains challenging.
Shares of Airbus, which said it's assessing how to split additional costs from parked narrow-bodies with engine suppliers, rose as much as 6 percent, the biggest intraday gain since Feb. 15, hitting a new high of 111.16 euros. They traded 4.9 percent higher as of 9:53 a.m. in Paris and have added a third in value this year, valuing the company at 85 billion euros.
The A350 wide-body program has shown strong progress, Airbus said in a statement, with the "cost curve" improving as output is increased toward 10 planes a month by the year's end. Combined with higher asking prices as the jet exits its launch phase, when more bargains are on offer, that helped account for the bulk of earnings improvements in the first half, though Enders said it's still too early to decide on further production ramp-ups.
Analysts had expected an adjusted Ebit of 1.05 billion euros, based on six estimates. Airbus confirmed plans to lift the full-year figure by about 20 percent to 5.2 billion euros before the integration of the new A220 plane acquired from Bombardier Inc. It also still expects free cash flow before disposals and acquisitions of approximately 3 billion euros.
Demand for Airbus's planes remains strong, the company said, with more than 430 orders and commitments worth in excess of $62 billion booked last week at the Farnborough air show in England, the year's biggest industry expo.
Airbus booked a 98 million-euro provision against price escalation on the delayed A400M military transport program, together with costs of 21 million euros from its H160 helicopter and 40 million euros in compliance and merger expenses. At the same time it had a 157 million-euro gain from the sale of assets in its defense and space division.
The CEO clarified comments published at the weekend on a possible combination of Airbus's military aircraft assets with those of BAE Systems Plc, saying he "was not suggesting" an outright merger of the businesses but that their parallel next-generation fighter programs should "converge."