Airbus Plans Tweak to Fend Off Boeing's New Mid-Size Jet
(Bloomberg) -- Airbus SE will offer a modified version of its A330neo wide-body designed for shorter trips in an effort to undermine demand for a new middle-of-the-market plane that Boeing Co. is expected to launch next year.
The A330neo's engines could be re-rated to a lower level of thrust, helping to reduce the fuel load and cut its take-off weight, Crawford Hamilton, the plane's marketing chief, said in an interview on Monday in Toulouse, France.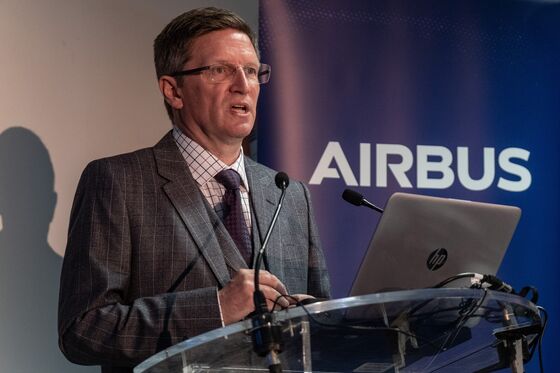 That would make the model better-suited to the mid-range routes Boeing would target with its jet, dubbed the 797. While the A330 will remain a bigger plane, Airbus is seeking to chip away at the overall market for the new Boeing, with versions of the A321neo narrow-body already eating into the lower end of the same niche with a spate of sales to trans-Atlantic carriers.
The A330neo's maximum take-off weight stands at 242 metric tons, but that could be cut to 200 tons, while its Rolls-Royce Holdings Plc engines could be re-rated to 68,000 pounds of thrust from 72,000 pounds, Hamilton said.
He spoke after Airbus handed over its first-ever A320neo to Portuguese airline TAP. That delivery is about a year behind schedule after testing issues and delays to the development of its Rolls-Royce's Trent 7000 turbines.
With the A330neo and modifications to the A321neo, Airbus aims to "completely close the gap between the single-aisle and the long-range," said Guillaume Faury, who heads the company's jetliner arm and is due to become group chief executive officer next year.
Plans to extend the capabilities of the A321 with an XLR model -- for extra long range -- are gaining traction with customers and will be detailed next year, he said.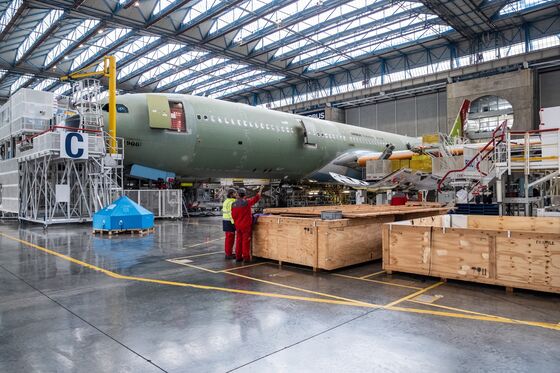 The A330neo, a re-engined version of a model that traces its heritage to Airbus's original A300 model, has been struggling for sales against Boeing's 787 Dreamliner, a completely new design that utilizes a largely composite construction to slash fuel consumption.
Hamilton said the mere fact that the A330 is still around shows that the 787 "failed in its mission," adding that while the Airbus plane is heavier, its higher seat count delivers better cost-efficiency per passenger. In the early years the original A330 also sold slowly before demand picked up, he said.
Airbus is also targeting the A330neo as a replacement for the Boeing 767, which is of a similar size and discontinued as a passenger jet, and even for the larger 777, older examples of which are nearing retirement, Hamilton said.