Airbus Names New CFO, COO to Replace Wave of Exiting Execs
(Bloomberg) -- Airbus SE poached the chief financial officer from German chipmaker Infineon Technologies AG, filling a major vacancy in its top ranks following an unprecedented wave of departures in the past year.
Dominik Asam will take over the finance position in April when Harald Wilhelm moves on, the company said in a statement Wednesday. Airbus also announced the appointment of a new chief operating officer at its main planemaking unit, with Michael Schollhorn taking over from retiring Tom Williams, 66.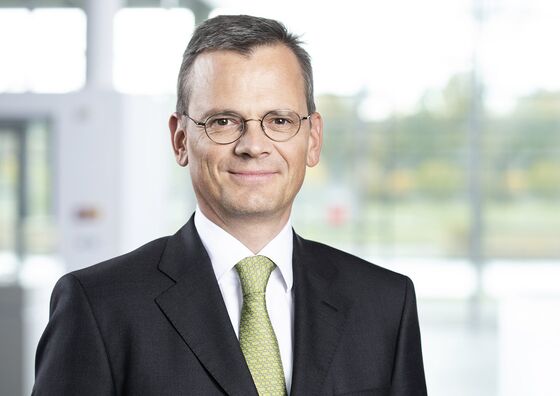 Airbus has witnessed a major management drain in recent months, with Chief Executive Officer Tom Enders and Fabrice Bregier, the head of the planemaking unit, leaving along with others. Asam, a German national, will work alongside Frenchman Guillaume Faury, who will succeed Enders next year, maintaining a Franco-German balance of nationalities that's closely guarded by the governments, the two main shareholders.
The moves shore up a management team that's been roiled by bribery investigations still ongoing after several years and a series of overdue retirements. Asam, 52, has been Infineon's CFO since 2011 and was the architect behind a run of acquisitions. He has held roles at RWE AG and Siemens AG after starting his career at the investment banking division of Goldman Sachs Group Inc. He had renewed his contract at the chipmaker only in March by another five years.
"He has an outstanding professional background and he will, no doubt, be a great wingman for Guillaume Faury, who will succeed me at the helm of Airbus next spring," Enders said in a statement.
Airbus rose as much as 1 percent to 91.98 euros, while Infineon rose as much as 2.6 percent.
The appointments cap three months of fresh manager appointments, starting with a new Chief Commercial Officer Christian Scherer and later the confirmation of Faury as the group's next CEO. The new top brass will be tasked with guiding Airbus through a critical decade as it manages the investigations by U.K. and French fraud offices, while leading a ramp-up in aircraft production to meet record order backlogs.
The CFO position at Airbus has typically been a key strategic role that requires the control of large outlays in funding for new programs and managing the launch aid granted by the group's home nations. A decision on the future of Airbus's struggling A380, which Wilhelm had come close to scrapping, could fall to Asam as he weighs the viability of the superjumbo.
Coming from the outside to the Toulouse-based planemaker isn't an easy task. Asam will need to quickly catch up on the workings of a complex and oftentimes internally political company. It's a bet that Airbus unsuccessfully tested with the appointment earlier this year of former sales chief Eric Schulz, himself an industry veteran, who ended up leaving the post less than nine months later. His replacement, Scherer, has been rising through the ranks at Airbus for over 30 years. Wilhelm spent close to two decades at Airbus in various roles.
The new executive will also be moving from one of the world's fastest-moving industries to arguably one of the slowest, with new aircraft programs taking as long as a decade from conception to first flight and many planes remaining in service even for decades longer. Airbus is also a far larger company by revenue and employees than Infineon, with sales of about 66 billion euros last year, compared with about 7.6 billion euros at Infineon.
Asam earned about 2 million euros in compensation last year including incentive plans. Airbus doesn't break out the salaries for executives under the CEO.
New COO Schollhorn, 53, will join the group's biggest unit from Munich-based BSH Home Appliances GmbH on December 30 succeeding Williams who has spent 50 years in the aerospace industry. The company is still due to announce a replacement for Didier Evrard, head of programs, who also postponed his retirement earlier this year.