Airbus in 'Eye of Storm' Sees Glimmer of Hope in Business Travel
(Bloomberg) -- Airbus SE Chief Executive Officer Guillaume Faury said he's picking up early signs of a return in business travel, a crucial part of the aviation industry's customer base that might help it rebound from the worst slump on record.
"At the beginning of the crisis, the business travelers stayed home, working remotely with digital systems," Faury said in a Bloomberg Television interview in Berlin. "A year later things are changing, businesses are eager to fly again."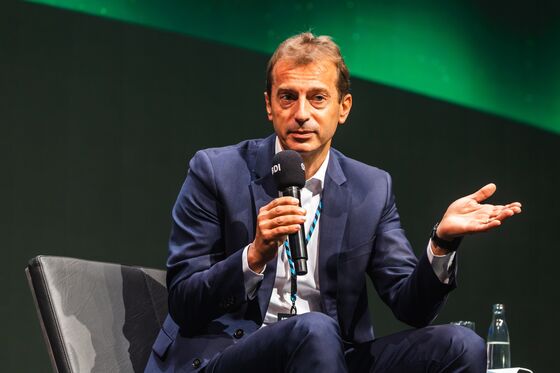 Airbus last week delayed a planned ramp-up in production to match demand from airlines that remains subdued. Faury said the European planemaker still remains in the "eye of the storm," while he's optimistic the business has stabilized to a point where Airbus can benefit from an upswing later this year.
Faury's cautious optimism was echoed by the International Air Transport Association, which said on Wednesday that it sees positive signs because the vaccination campaign is underway around the world. Faury said Airbus is navigating the current situation "plane by plane, airline by airline."
There's growing evidence among companies that keeping the workforce at home indefinitely may not be possible. Barclays Plc Chief Executive Officer Jes Staley said Tuesday at the World Economic Forum that the home-office situation isn't sustainable, a comment echoed by JPMorgan Chase & Co.'s asset- and wealth-management boss, Mary Erdoes, who said at the same event that "it feels like it is fraying."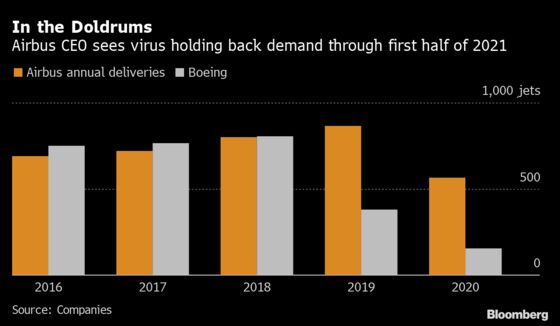 "One year of crisis has made it very clear that traveling and meeting with your business partners is absolutely essential," Faury said. "So it will be back."
Faury also pointed to signs of pent-up demand for leisure travel. In cases where routes have re-opened, the level of bookings has been extremely high, though the speed of any rebound in this segment depends on the vaccination drive, he said.
As Airbus looks to a more optimistic future, U.S. rival Boeing Co. on Wednesday reported its worst-ever annual loss, including a $6.5 billion charge to delay the debut off its behemoth 777X jetliner until late 2023, three years behind the initial schedule.
Excerpts from Faury interview:

Brexit: "We have four home countries which are the founding nations of Airbus and the U.K. is one. Now that there's an agreement we really hope for new cooperations and both parties looking to the future positively."
On WTO case: "We want to solve that dispute. We think there can be a fresh start with the Biden administration and the EU; both of them want to have a good start together."

On customer talks: "We are speaking very closely and working very closely, side by side with each and every airline customer and the lessors, which are a very big part of the industry at a moment when we really need it."

On narrow-body market share: "It's very likely it will remain more than 50% for Airbus. We think we have the superior product, but when the Max is back there will be a new situation. It depends very much on the intensity of the competition."
Airbus has focused its product offering on more nimble, fuel-efficient aircraft that are likely to be deployed first in a recovery, like the A220 and A320 families of single-aisle planes and the bigger A350 made of advanced composite materials.
For now, Airbus is feeding off its vast backlog of orders that stretches out several years, and Faury said the number of outright cancellations has been negligible because airlines, too, are betting on a rebound and don't want to miss out on their delivery slots.
"We know we have to remain very agile," Faury said. "We have short-term headwinds with the virus and the complexity of the situation, and we have mid-term tailwinds with the vaccine" and people's desire to book a vacation again, he said.