Airbus Gets Cash Boost From Flurry of New Jet Deliveries
Airbus SE generated positive cash flow for the third quarter in a row, while warning that new coronavirus flareups threaten progress toward a recovery in air travel.
The European planemaker reported 1.2 billion euros ($1.5 billion) in adjusted free cash flow between January and March, when aircraft deliveries surpassed the mostly pre-pandemic first quarter of 2020. Profit came in ahead of analysts' estimates.
Chief Executive Officer Guillaume Faury has been able to juggle delivery schedules while pressing customers to keep taking new planes, despite slow progress toward a return to normal for the travel industry. On Thursday he reiterated a target to increase production of Airbus's top-selling A320-series jets later this year.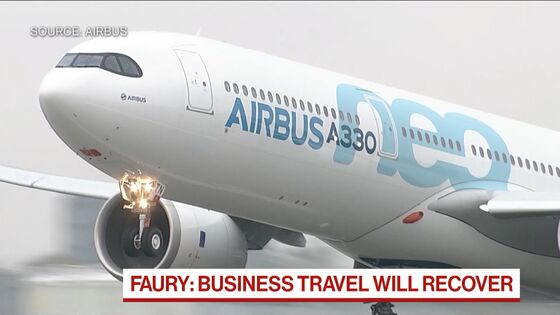 The shares rose 2.5% as of 9:19 a.m. in Paris, extending gains for the year to about 13%.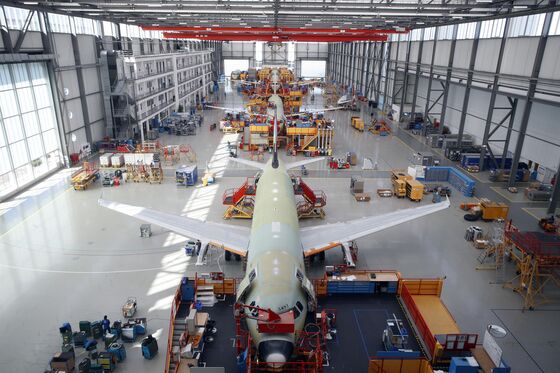 Still, setbacks in fighting the Covid-19 pandemic have forced governments to tighten borders, weakening the airlines and leasing firms that make up Airbus's customer base. Most recently, a virus surge in India has quieted one of the world's strongest aviation rebounds. Airbus warned the outlook hinges on no further disruptions to air travel or the global economy.
"We still face uncertainties which result in a lack of predictability," Faury said on a conference call. "The path to recovery will not necessarily be linear."
While Airbus stuck to financial targets it set out earlier this year, developments over the next month or two will be key for the Toulouse, France-based planemaker and its U.S. rival Boeing Co.
A lack of coordination in Europe on travel restrictions remains a concern, as well as the situation in India, where Airbus has major customers like IndiGo. Faury said he hasn't yet seen a direct impact in the region, but doesn't expect things to be as good there as they were.
At stake is the summer high season, whose start has already been delayed. Deutsche Lufthansa AG reined in capacity plans for the early summer Thursday, while London's Heathrow airport cut its full year passenger outlook.
On Wednesday, Boeing reported that it burned more cash than expected during the first quarter.
The U.S. planemaker was in the midst of a 20-month grounding of its 737 Max when the pandemic started, and in recent months has struggled with manufacturing issues that held up deliveries of that plane and the larger 787 Dreamliner.
Still, Boeing CEO Dave Calhoun said he expects this year will be a "key inflection point" for the industry as vaccines gain ground. He also vowed to compete with Airbus in the narrow-body space, saying Boeing intends to "hold its own."
Airbus reported adjusted earnings before interest and taxes of 694 million euros for the first quarter, and revenue of 10.5 billion euros. Chief Financial Officer Dominik Asam said both free cash flow and Ebit had positive impacts which are not representative of the full year. Research and development spending also tends to be seasonal, with less spending coming through in the first part of the year.
While the Airbus results are a positive surprise, the unchanged full-year expectations and the particular dynamics of the cash savings in the quarter mean "we cannot make a mountain out of the molehill," said Jefferies analyst Sandy Morris.
The company stands by earlier targets for the full year: breakeven free cash flow, excluding the impact of M&A and customer financing, and 2 billion euros in EBIT. Those figures depend on Airbus meeting a full-year target for at least matching 2020's 566 jet deliveries.
Charges excluded from adjusted EBIT:

- EU29 million related to A380 costs

- EU177 million for a dollar pre-delivery payment mismatch and balance sheet revaluation

- EU26 million for compliance and other costs
Airbus significantly sped its deliveries in March to hand over a total of 125 aircraft for the first quarter. That beat last year's figure of 122, easing some concern over the company's backlog of undelivered jets.
Analysts were reassured the company stood by its plan to increase the A320-series production rate to 43 per month in the third quarter and 45 by year-end. Those figures represent targets that were lowered earlier this year from a more ambitious ramp-up. Current output for the single-aisle family is at 40 per month.
This month, Faury moved to centralize power with a management shakeup and plans for the biggest revamp of Airbus parts production in a decade. Two top lieutenants will leave the company -- Dirk Hoke, the head of the defense and space division, and Chief Technology officer Grazia Vittadini.