Airbus Dominates First Post-Pandemic Air Show; Boeing Trails
(Bloomberg) -- Airbus SE emerged as the clear winner from the world's first major air show since the start of the Covid-19 pandemic, with the European planemaker signing up orders and commitments for more than 400 planes. 
Boeing Co. had a more modest outing, but scored a major success with Indian startup airline Akasa's purchase of 72 of its 737 Max jets. The agreement expands Boeing's presence in a market dominated by Airbus, and adds to evidence the narrow-body workhorse is rebounding from groundings caused by two deadly crashes.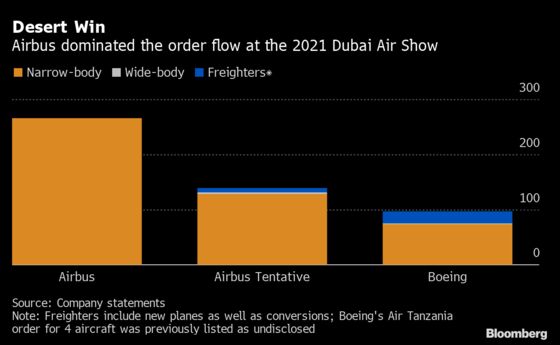 Airbus notched up 269 firm orders, including a 255-jet deal with a group of four discount airlines backed by Bill Franke's Indigo Partners. The European planemaker also secured a tentative agreement with Air Lease Corp. for 111 narrow- and wide-body jets, and the first sale for its coming A350 freighter. Smaller planes dominated, adding to the case Airbus is making with suppliers for a rapid increase in production after the Covid-19 downturn. 
"The question is in the longer term to what rate are we going and for how long," said Airbus sales chief Christian Scherer at the show on Nov. 14. "A lot of our customers would take airplanes earlier if we could produce them earlier."
Still, there was no order rush for the A350F, unveiled in July, at a time when freighters are a bright spot in sluggish wide-body demand. Air Lease agreed to take seven of the new Airbus model, while Boeing announced orders for two of its 777 freighters and one 767 cargo jet, along with some freighter conversions and a handful of smaller deals. 
Boeing also saw progress in its effort to recertify the 737 Max in China, its largest overseas market. 
The planemaker is separately battling production issues with its 787 Dreamliner wide-body that's led to a stoppage in deliveries, while the planned 777X has been beset by delays. 
Shares of both companies have advanced this week.