Airbus CEO Warns No-Deal Brexit Puts U.K. Investment at Risk
(Bloomberg) -- Airbus SE Chief Executive Officer Guillaume Faury said a U.K. split from the European Union without a trade deal could threaten the planemaker's investment plans in the country.
Decisions would be made based on how easy it is to conduct business after Brexit, he said at the Conference of Montreal on Monday. In the meantime, the company has no plans to close or scale down its British factories, which make wings for all of its passenger aircraft, and would find a way to manage a no-deal scenario if it came to that, he said.
"In the short term we're not in a position where we have to make decisions -- the plant and the activities which are in the U.K. are performing," Faury told BNN Bloomberg at the virtual event. "I'm looking at the long-term situation and whether it will remain competitive for us to do business in the same way."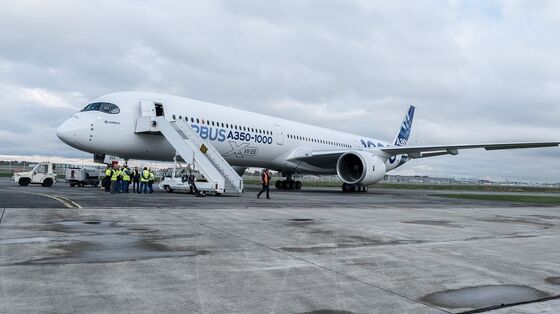 Airbus was vehemently opposed to Brexit under previous CEO Tom Enders, who warned that the company could pull out of the U.K. if a deal wasn't reached. Faury has taken a more measured tone since taking over in April 2019, while stockpiling parts to protect against border delays and taking steps to move British design certification for aircraft parts to the EU.
British Prime Minister Boris Johnson and European Commission President Ursula von der Leyen extended talks about a trade deal on Sunday, giving negotiators more time to reach an agreement. Officials involved in the process said an agreement could finally be struck this week, days before the U.K. leaves the EU single market and customs union on Dec. 31.
"It will be much better for the EU and the U.K. to have an orderly Brexit with a deal," Faury said. "This being said, if there's no deal we'll have to live with it."
The main logistical issue for Airbus in a no-deal Brexit is friction at the border which could affect the movement of goods, he said.
The broader issue is the U.K.'s future relationship with its closest trading partner, as Airbus relies on the quality of business between the U.K. and sites in France, Germany and Spain. Future investment decisions will depend on competitiveness and the ability to operate in an integrated manner across Europe, Faury said.
Airbus employs 12,500 people in the U.K., according to its website, at sites including a wing-design site in Filton, near Bristol, and a wing-assembly plant in the Welsh town of Broughton.
The current rate of production on the popular A320 family of aircraft looks close to where it should be, Faury said. Airbus has been mulling moves to lift build rates for the single-aisle plane to as high as 47 a month in the second half of 2021 from 40 now, though the CEO said Monday that current levels would remain in place at the start of next year.
The jet-making industry is just starting to emerge from the crisis brought on by the coronavirus, which grounded planes worldwide and forced carriers to postpone deliveries.
Faury also indicated he's optimistic that under President-elect Joe Biden, a long-running tariff dispute with the U.S. will be resolved. The CEO added that "would have happened anyway."