A Humiliating End to the Superjumbo Era
(Bloomberg) -- The world's biggest passenger plane is approaching the end of the line after little more than 11 years of production, with Airbus SE planning to cease building the A380 superjumbo in 2021 following a cut in orders from No. 1 customer Emirates.
As the iconic double-decker, which commonly seats more than 600 and has wowed travelers with in-flight showers and bars, enters its twilight years, here's a timeline of the superjumbo's checkered and brief history.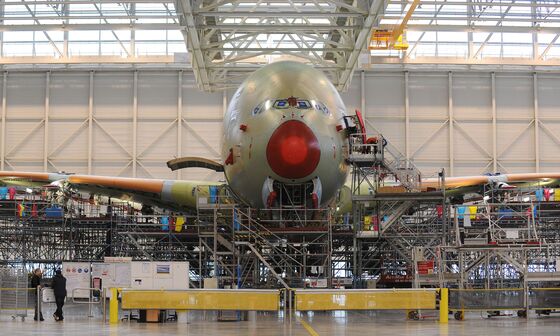 June 1994: After the failure of joint studies with Boeing Co., Airbus announces that it plans to develop its own very large airliner, dubbed the A3XX.
March 1997: As the planemaker works toward service entry for the model in 2003, it faces early criticism of its market forecast, with British Airways saying a projection for 1,380 sales by 2014 is too bullish. Boeing, which has decided to build a smaller plane, reckons demand might not top 470 jets as economies evolve to favor point-to-point travel rather than global super-hubs.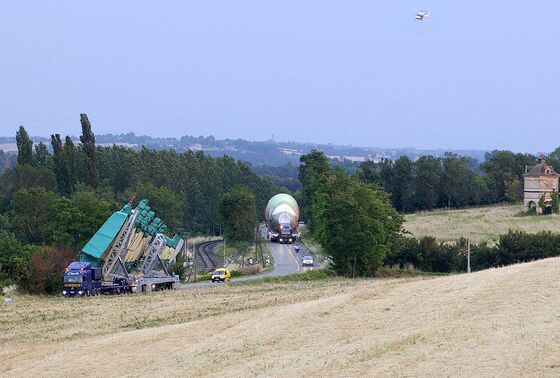 July-December 2000: The A3XX wins commitments from Dubai-based Emirates and Air France, followed by a $8.6 billion outline contract from Singapore Airlines Ltd. and putative sales to Qantas and Virgin Atlantic. Emboldened by the order rush, Airbus formally commits to building the plane, with deliveries from 2006.
July-December 2004: Airbus faces a fight to reduce the weight of the plane, now renamed the A380, in order to achieve promised efficiency goals. Failing to do so will mean paying financial penalties. Development costs are also running way ahead of projections, prompting concerns about whether the company can actually make money from the program.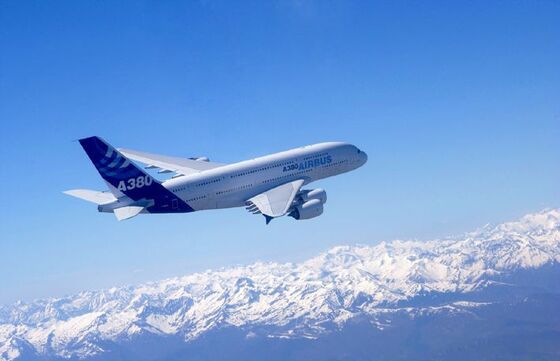 April 2005:  The A380 takes to the skies for the first time with a near four-hour test flight from Airbus's manufacturing base in Toulouse, France. Chief Executive Officer Noel Forgeard hails the achievement, but storm clouds are gathering as a Northwestern University academic predicts the plane will lose $8 billion over its commercial life and never pay back billions more in state aid.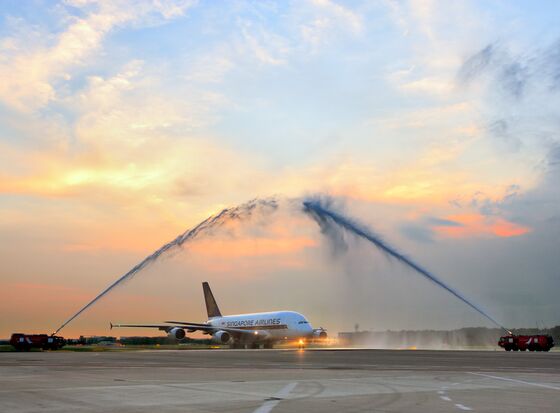 October 2007: After multiple delays, further cost overruns and other crises, the A380 finally enters commercial service with Singapore Air on a flight to Sydney. The superjumbo is an immediate hit with the flying public, who luxuriate in a cabin that makes some smaller jets appear like broom cupboards, but the order-book remains slim and it's becoming clear that most carriers see the plane as a niche model rather than a mainstay of global travel.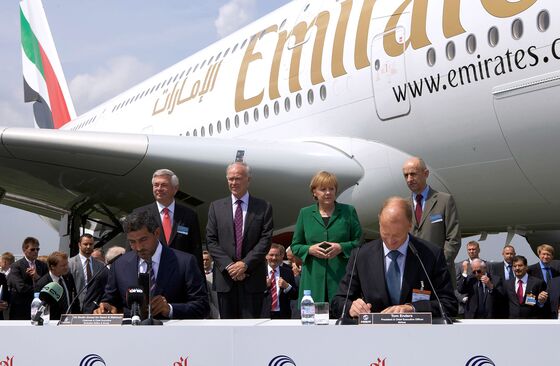 November 2010: In a blow to the jet's reputation, Qantas grounds its entire A380 fleet after an engine explodes mid-flight, forcing an emergency landing. An investigation finds that the incident was caused by an oil leak and subsequent fire; turbine manufacturer Rolls-Royce Holdings Plc revises its procedures.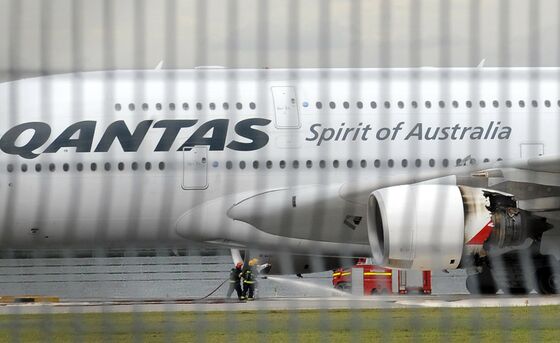 January 2014: Airbus wipes an order from India's defunct Kingfisher Airlines Ltd. from its books and cuts back production as it becomes clear than some customers—including Virgin and Indian Ocean carrier Air Austral—no longer want the planes they agreed to buy.
January 2018: Emirates signs a deal for 20 additional A380s and 16 options, boosting a program that's landed only a handful of deals in recent years. The purchase appears to give the giant jet a new lease on life, days after an admission from Airbus that its future is in doubt.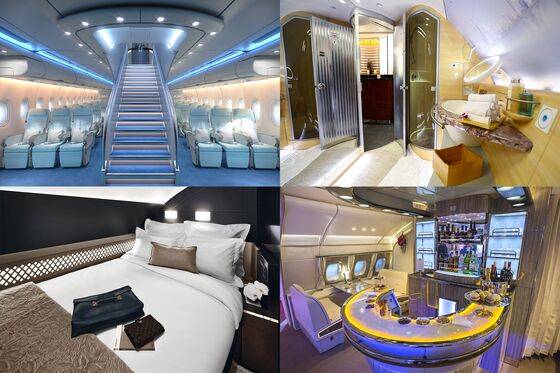 June 2018: Some of the first A380s built come off lease from Singapore Airlines. Other carriers aren't interested in taking the planes and they're parked in the foothills of the French Pyrenees en route to the scrapheap, an inglorious end for the jets after just a decade in service.
October 2018: The breakthrough Emirates deal is plunged into doubt as the airline struggles to secure price and performance concessions from Rolls-Royce. The companies missed a deadline to select engines for the new planes, appearing to store up trouble for Guillaume Faury, who is announced as Airbus's next CEO.
February 2019: Airbus finally gives up on the A380 as Emirates slashes its order, with current chief Tom Enders announcing that the manufacturer will stop making the plane in one of his final acts as CEO. It's the end of an era in aviation, though the superjumbo may remain service until the 2030s.