Air France-KLM's $3.8 Billion Dutch Aid Comes With Strings
(Bloomberg) -- Air France-KLM's Dutch arm will get a 3.4-billion-euro ($3.8 billion) bailout from the Netherlands, bringing the group's state-aid total to 10.4 billion euros and tying the struggling carrier to wide-ranging operational and environmental constraints.
KLM will receive 2.4 billion euros of state-backed commercial funding and 1 billion euros in direct government loans, Dutch Finance Minister Wopke Hoekstra said in a letter to parliament Friday that came after weeks of wrangling over the terms of the funding needed to ride out the coronavirus crisis.
The carrier faces job cuts and environmental curbs on its activities in return for the rescue, and will also end up with greater potential for political meddling after the state appointed an agent to oversee how the money is used.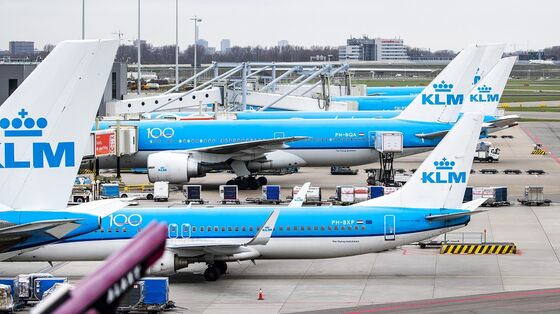 The Dutch package follows a 7 billion-euro bailout of Air France, the carrier's French arm, and hammers home the reliance of Europe's biggest airlines on state aid to get through the slump. It comes a day after Deutsche Lufthansa AG won shareholder approval for a 9 billion-euro German package on top of which Austria, Belgium and Switzerland will also contribute. The rivals are each getting close to $12 billion in total.
France and the Netherlands each have 14% stakes in Air France-KLM, the region's second-biggest carrier after Lufthansa, and have a history of squabbling over how it should be run. Their separate loans and guarantees will complicate Air France-KLM Chief Executive Officer Ben Smith's planned revamp as he navigates the myriad of strings attached to the funding.
"It's not a free ride," KLM chief Pieter Elbers said in an interview on Bloomberg TV. "It's very important for us here at KLM that we have that loan and credit facility in order to make the necessary restructuring."
Like Lufthansa, Air France-KLM came under fire Friday from Michael O'Leary, CEO of Ryanair Holdings Plc, which called on the European Commission to block the aid to prevent a distortion of competition in the Dutch and French markets. A spokesperson confirmed the Commission will examine the package and declined to comment on Ryanair's complaint. The Commission approved the French bailout.
Shares of Air France-KLM rose 2.7% at 12:27 p.m. in Paris, paring the stock's decline this year to 57%.
Conditions for the Dutch support include the appointment of a state agent with powers to intervene where necessary and attend KLM board meetings. At a press conference, Hoekstra described the move as a "lock in the door."
KLM will also be required to cut the number of night flights by a fifth to reduce the impact of aircraft noise for residents around Amsterdam's Schiphol airport, take steps to encourage rail travel, and halve CO2 emissions per passenger by 2030.
KLM must also halt dividend payments in return for the taxpayer money, and Hoekstra said job cuts are inevitable as part of a restructuring program that will also lead to a scrapping of bonuses and salary reductions of as much as a fifth for those making more than 110,000 euros annually.
The Netherlands said two months ago that it would provide between 2 billion euros and 4 billion euros of assistance. The paying down of a credit line of 665 million euros granted in March will be the first draw on the new facility.
The environmental constraints placed on KLM in the Dutch package echo some put in place by the French on Air France. Together, they will lead to the transformation of some operations.
French Finance Minister Bruno Le Maire agreed in April to provide 4 billion euros of state-backed commercial funding and 3 billion euros of direct state loans to Air France, which must curb domestic flying by 40% and lower carbon emissions. He also called on the carrier to be a "good customer" for Toulouse-based planemaker Airbus SE, which is struggling as jet orders dry up.
Air France-KLM CEO Smith has started talks with unions about cutting Air France staff through voluntary departures as he seeks the exit of around 8,300 employees, Bloomberg News reported.
KLM has started its own plan for voluntary departures. Elbers said of job cuts, "still a lot needs to be done to get through this difficult period."