Air France-KLM's New CEO Gets Knuckles Rapped by French Minister
(Bloomberg) -- Just days after taking the top job at Air France-KLM, Chief Executive Officer Ben Smith is learning the hard way about the difficulties of running a French state-backed business.
Economy Minister Bruno Le Maire on Thursday publicly took the Canadian to task for being quoted in the Financial Times as saying that the government was prepared to sell its 14 percent stake in the carrier.
"There is no question -- it is not the road map for Ben Smith -- of liquidating the state's stake in Air France," Le Maire said in an interview on France Info radio. "It is not one of the options on the table today."
The priority, the minister said, is to "repair" the airline.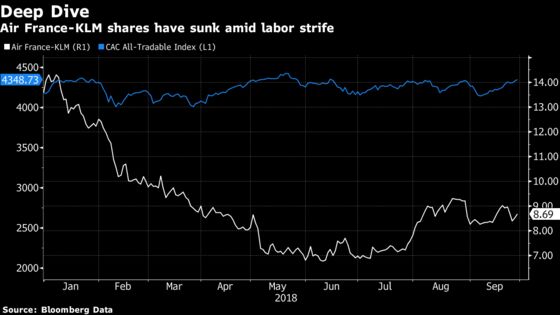 The government has raised the possibility of unloading its stake in the troubled carrier in the past. Just this month, Transport Minister Elisabeth Borne said there was "no taboo" in cutting the holding. Yet she has also stressed it's still too early to make the move. Air France remains in the throes of a bitter labor dispute with French unions over pay, a conflict that cost Smith's predecessor, Jean-Marc Janaillac, his job.
A spokeswoman for Air France-KLM declined to comment.
Smith will also take the lead of the Air France unit after current CEO Franck Terner handed over his resignation, the airline said Thursday in a statement, effectively putting Smith on the front line of negotiation with French unions.
"I realize what internal expectations are," Smith said in the statement. "My first work meetings with Air France teams and union representatives make me confident in our capacity to build together the future and the success of Air France."
The shares rose 1.9 percent to 8.69 euros Thursday in Paris, trimming losses to 36 percent since the start of the year.