Transat Drops With Air Canada Takeover Now in Jeopardy
(Bloomberg) -- Air Canada's proposed takeover of Transat AT Inc. has been thrown into doubt after European regulators failed to approve the deal by a Feb. 15 deadline.
The companies are still talking about "potential amendments" that can keep the deal alive, Montreal-based Transat said in a statement. However, Air Canada won't agree to extend the deadline, meaning either company now has the legal right to walk away from the deal, Transat said.
Transat dropped 9.3% to C$4.77 as of 10:49 a.m. in Toronto, below the takeover price of C$5. Air Canada was up 2.3% to C$22.85.
If the deal falls apart, it may open the door to Quebecor Inc. Chief Executive Officer Pierre Karl Peladeau, who'd previously made an offer for Transat through his investment company.
In a lengthy Facebook post Saturday, Peladeau predicted Air Canada and Transat would miss the deadline.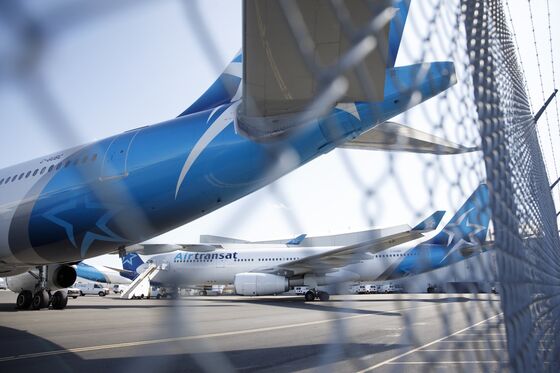 Transat board members "will regain their freedom, allowing them to ensure the company's sustainability, its outreach in the community and the considerable economic benefits for Quebeckers," Peladeau wrote. "I invite them to find the reasonable terms of an agreement with my group so that we can save Transat, together."
Air Canada agreed to buy Transat, one of Canada's largest travel tour operators, in June 2019 and later raised its bid to C$18 a share to win over some recalcitrant shareholders and seal a friendly deal.
Because the Covid-19 pandemic struck before the deal closed, both sides agreed last year to a dramatically lower price. Air Canada offered Transat investors the option of taking C$5 per share in cash or 0.2862 Air Canada shares, to give them the ability to participate if the airline industry recovers. The deal now has an equity value of about C$200 million ($158 million).
Canadian regulators approved the deal last week with conditions, including a requirement that Air Canada keep 1,500 employees in its leisure travel business, start new routes within five years and keep the Transat head office in Quebec.
But the European Commission hasn't approved the deal yet and has requested additional information from the companies. Its decision is now expected in the first half of 2021.