AIG Breaks Six-Quarter Losing Streak 
(Bloomberg) -- American International Group Inc. Chief Executive Officer Brian Duperreault notched a long-awaited victory in his efforts to turn around the company's biggest unit, sending the insurer's shares to their highest price in almost seven months.
"This quarter's underwriting profit represents a significant milestone for AIG and reflects the tremendous work undertaken by Peter and his leadership team over the last 18 months," Duperreault said Tuesday on a conference call with analysts, referring to Peter Zaffino, who leads the property-casualty business.
Since taking over about two years ago, Duperreault has sought to fix the insurer's property-casualty business, an operation that's been bedeviled by charges in recent years. Duperreault and Zaffino have worked to improve its underwriting and tweaked its reinsurance program. That fueled the best underwriting margin for the general insurance business since Duperreault took the helm, helping the company's overall earnings top analysts' estimates and break a six-quarter streak of misses.
"Underlying trends in property-casualty insurance improved materially, which will lend credence to the turnaround strategy under Brian Duperreault," Buckingham Research Group analyst Amit Kumar said in a note to clients late Monday after AIG announced its earnings.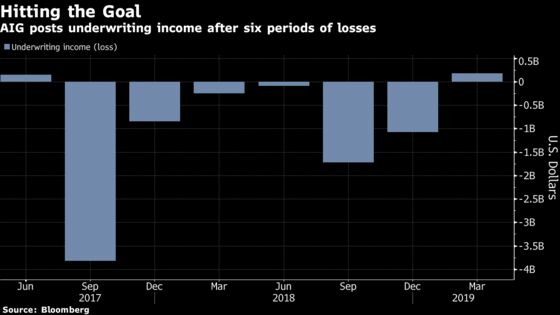 AIG's shares climbed 7.3 percent to $50.54 at 9:48 a.m. in New York, the highest since October, extending this year's gain to 28 percent.
During Tuesday's earnings call, analysts questioned management about its outlook given past issues. Some analysts, including Evercore ISI's Tom Gallagher, expressed some hesitancy about depending on AIG's ability to repeat the first quarter's results.
Inserting a bit of conservatism into the valuation of the property-casualty business "is still appropriate at this point given that we have only had one quarter of solid results and it will be important to see some sustained success," Gallagher said in a note to clients Tuesday before the earnings call.
Other highlights from the results:
Earnings per share of $1.58 beat the $1.05 average estimate from 18 analysts surveyed by Bloomberg.
AIG's general insurance division is also getting a bigger share of its business from commercial clients. Net premiums written for commercial lines climbed 16 percent while personal insurance dropped 22 percent from a year earlier.
Rising stock markets also gave AIG a boost, with investment income jumping to $3.7 billion.
The first-quarter results reflected "significant foundational work throughout 2018 to position AIG for sustainable, profitable growth,'' Duperreault said in a statement Monday.