AIB Falls Most in Over a Year as CEO Unexpectedly Quits for Davy
(Bloomberg) -- AIB Group Plc's shares plunged after its boss unexpectedly left for a securities firm that isn't subject to Ireland's stiff rules on banker pay.
The lender fell more than 10 percent after Chief Executive Officer Bernard Byrne said he was leaving for a senior role at Dublin-based Davy, just weeks after AIB's finance chief also decided to quit. The shares are below the level at the time of the IPO last year, when the government sold a stake in the bank.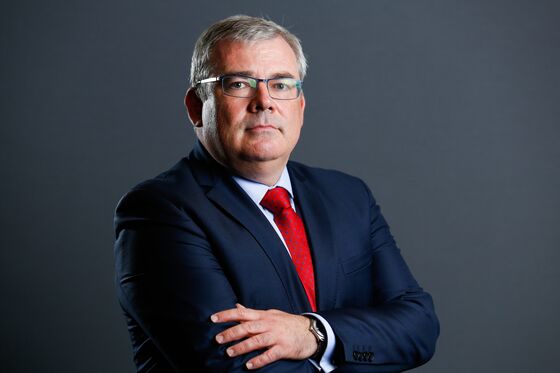 Byrne will remain as CEO into 2019 while the board seeks a successor, AIB said in a statement on Friday. He will join Davy as head of capital markets and deputy CEO from May, that firm said in a separate statement confirming an earlier Bloomberg report.
"The fact that Byrne is moving to a firm that won't have any pay restrictions implies that the government limits are an issue," Owen Callan, an analyst at Investec, said in an interview.
Byrne, 50, played a key role in AIB's IPO, when the government sold a 28 percent stake. The state still retains control of the bank, and as a result, salaries for executives are capped at 500,000 euros ($567,000) a year, while bonuses are effectively banned.
Davy has no such restrictions.
A Davy spokesman declined to comment on Byrne's remuneration or the firm's pay policy.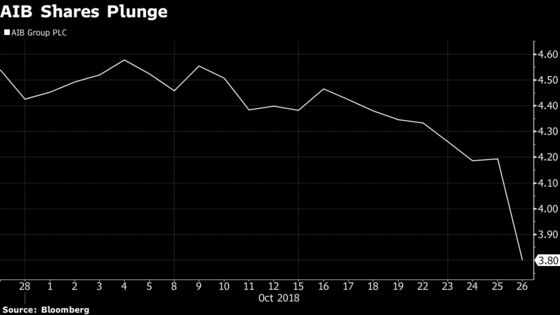 AIB has argued that state control may be hurting its prospects and ability to retain staff. In a move first reported by Bloomberg, the government in April voted against the bank's plan for the return of top executive bonuses, and in September, Chief Financial Officer Mark Bourke announced his departure for Portuguese lender Novo Banco SA. He remains with AIB for now.
"The lack of leadership now is an issue for the bank. It would make it near-impossible to sell down another portion of the bank until those positions are filled," Callan said.
Among potential internal AIB candidates to replace Byrne are Chief Operating Office Tomas O'Midheach, who was recently also appointed to the role of deputy CEO, and Group Treasurer Donal Galvin, who also now holds the post of deputy CFO.
Banker Bonus Plan Rejected by Irish Government; Pay Reviewed
News of Byrne's departure overshadowed AIB's trading statement on Friday, and the bank dropped as much as 10.4 percent, and was down 3.9 percent at 4.02 euros as of 2:54 p.m. in Dublin -- below the 4.40-euro initial public offer price.
In a third-quarter trading update, AIB said it posted a net interest margin of 2.51 percent.
Its common equity tier 1 ratio, a key measure of its ability to absorb losses, was 17.9 percent. That was "well in excess" of its medium-term CET1 target of 13 percent.
Performing loans increased by 3 billion euros from December 2017 to 56.1 billion euros.
While the net interest margin figure was disappointing, "the positives outweigh the negatives" in AIB's statement, Goodbody Stockbrokers analyst Eamonn Hughes said. "However, news the CEO is stepping down, after the CFO recently, too, is also likely to be a factor today."