Best Run in 44 Years Signals Southern Has Survived Its Woes
(Bloomberg) -- Southern Co., the Atlanta-based utility owner, is on pace to have its best year since 1975.
On Tuesday, the company shares climbed 2.3% to $63.70, reaching another record, after Georgia regulators approved a rate increase through 2022. The stock is up 45% this year, making it the best performer in the S&P 500 utilities index.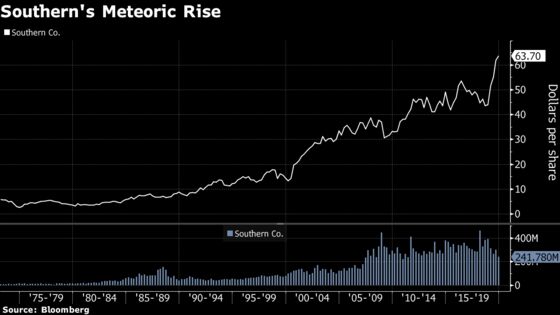 It's a stark reversal for a company that has seen its market value drop in three of the past 5 years, pulled down by two massive power projects that ran into trouble. Southern reported its biggest loss in a quarter century in 2017 after writing off a $7.5 billion "clean coal" power project in Mississippi. Its Vogtle nuclear power project, the first new reactors ordered in the U.S. in decades, has doubled in price and is currently running more than five years behind schedule.
Rates in 2020 will rise by an average 4.4%, with a typical residential customer paying an additional $5.89 a month, said John Kraft, a spokesman for Georgia Power. The company had originally requested an increase that would've raised the typical customer's bill by $9.78 a month.
While not directly tied to Vogtle, the rate decision strengthens Southern's overall financial position and bodes well for the company's fortunes in the state.
"If the regulators are supporting you in the regular rate case, that may send a signal to investors that you should have decent support going forward with the Vogtle construction," Kit Konolige, senior analyst for Bloomberg Intelligence, said in an interview.
Read More: Last U.S. Nuclear Project Escapes Potential Death Blow
Last month, Southern said it expects to meet its deadlines to finish Vogtle unit 3 by November 2021 and unit 4 by November 2022. The company says it built a "margin" into the schedule to ensure it hit the deadlines.