After Scandal and Death, Two Alpine Banks Target Crypto Gold
(Bloomberg) -- Walk into Falcon Private Bank on the Pelikanstrasse in central Zurich and you're immediately struck by the giant photo of a woman crouched in the sprinter's starting position, painted head-to-toe in gold.
The image -- a throwback to the Bond movie Goldfinger a half-century ago -- casts the Abu Dhabi-backed firm as the agile adviser you need to get off to a flying start to riches. It's also part of a plan to overhaul a brand tarnished by the bank's involvement in the multibillion-dollar 1MDB embezzlement scandal and help advertise its push into a product that most Swiss banks are still too nervous to touch: crypto finance.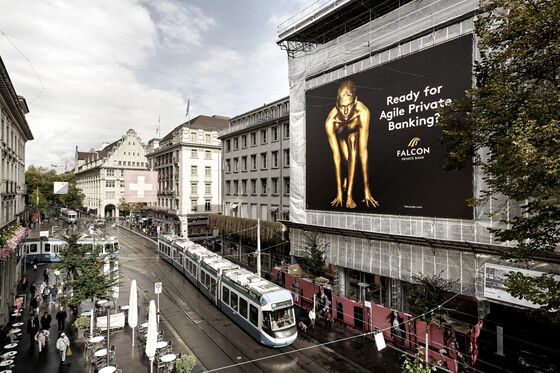 "In areas that are new, the big banks cannot move as quickly as the smaller banks," Stefan Bollhalder, Falcon's chief investment officer, said in an interview in Zurich. Larger rivals may also think "it's not worth the risk, so they leave it to the smaller ones."
Falcon Bank and Liechtenstein's Bank Frick are among a very limited number of the 150-plus private banks in Switzerland and the neighboring duchy that have begun offering clients a direct way to invest in the volatile asset class. While Credit Suisse Group AG and UBS Group AG have shied away from crypto, Falcon and Frick are tapping pent-up demand for banking services from Crypto Valley, as the Swiss city of Zug has dubbed itself.
"Crypto Valley is almost unbanked," Michael Helbling, head of Falcon's crypto desk, said in the roundtable interview. "We have seen tremendous interest." Two notable players that Falcon works with today in Zug are Bitcoin Suisse AG, run by Crypto Valley pioneer Niklas Nikolajsen, and Crypto Broker AG, the bank says.
Mindful of this, Falcon says it did its homework before entering the crypto market. So far, it's offering investment strategy and brokerage services.
"The bank has learned its lessons," said Gianmarco Timpanaro, Falcon's marketing head, "and there was a really clear prerequisite to have all the compliance and legal sign-offs before we would enter this kind of business."
That meant sharing its business plan with Swiss bank regulator Finma. Falcon also employs a firm of money-laundering software experts to vet new clients by scrutinizing their blockchain for red flags. Falcon says it has turned away some potential crypto investors and will continue to do so.
A 90-minute drive from Falcon in downtown Zurich, authorities in Liechtenstein are working on a law to promote blockchain startups. The 160-square-kilometer country approved its first crypto fund before Switzerland -- and Liechtenstein's crown prince and regent appears to endorse crypto business and other entrepreneurial business models, Bank Frick CEO Edi Woegerer said in an interview at the bank's headquarters in Balzers.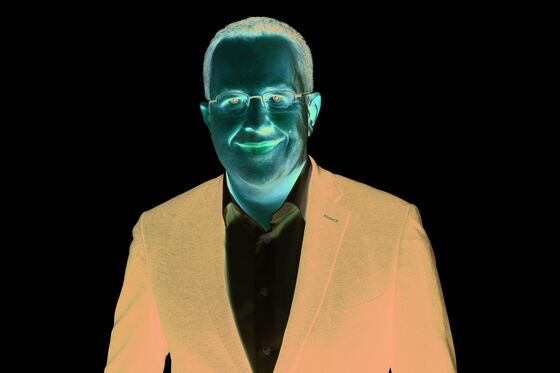 Tucked into a valley between Switzerland and Austria, the bank is also seeking to move on from a troubled past: Four years ago, its former CEO Juergen Frick was shot dead by an angry investor who had tried to extort him, according to the bank. The suspect fled the scene with his body discovered months later, dead from a gunshot wound.
Woegerer took over after the CEO's shock death. Determined to turn the page, he's happier talking about the bank's future -- and the advantages it gets from marketing digital currency services. "We get exposure we couldn't buy," Woegerer said.
The bank looked at cryptocurrencies more than four years ago, but struggled with the technology until they flew in a 19-year-old expert from California for six months. Today it focuses on serving intermediaries such as brokers or crypto exchanges. Wealthy clients can open an account but aren't the bank's focus, Woegerer said.