Brussels Edition: Europe's Soul Searching
(Bloomberg) -- Welcome to the Brussels Edition, Bloomberg's daily briefing on what matters most in the heart of the European Union.
Having survived existential challenges over the past decade, EU institutions are entering a soul-searching period: 2020 marks the start of a two-year Conference on the Future of Europe, a brainchild of Emmanuel Macron that has everyone in Brussels scratching their heads. The ECB also just launched its first review of policy strategy since 2003. And the European Commission is about to ignite a debate on the euro area's fiscal governance with an assessment of the region's current arrangements. "Certainly, and unhappily, many things are absurd," so the poem goes, and the commission is poised to say as much today. But with stakeholders at odds about what should be done to make the EU more functional, there's a risk that aspiring reformers will make "tremendous fuss" without delivering much.
Balkan Expansion | The bloc's soul searching includes the issue of further EU expansion. The question is whether the proposal due today for a revised methodology of accession talks will be enough for Paris to lift its objections for Albania and North Macedonia. 
Google Probe | In things more prosaic, Google faces another EU probe, this one over concerns its location data could violate privacy rules. The latest case follows a series of complaints in 2018 from consumer associations, accusing the tech giant of collecting data that can reveal a lot more about its users than just their location, such as their political leanings or sexual orientation.
Viral Precautions | Top members of the EU Chamber of Commerce in China were forced by the commission to scrap scheduled meetings in Brussels with 11 commissioners. The reason: the coronavirus outbreak means "non-essential" contacts with people based in China are being cancelled, according to Joerg Wuttke, president of the chamber.
Confidence Vote | Romania's minority government is facing a no-confidence vote today, just three months since taking power, though it's likely to benefit whatever the result. A defeat would move the administration a step closer to its goal of holding a snap general election to capitalize on high scores in opinion polls and build a more sturdy base in parliament.
Climate Row | U.K. Prime Minister Boris Johnson is engulfed in a row over his sacking of the president of the next round of global climate talks just as he sought to burnish his credentials on the issue with a pledge to phase out petrol and diesel cars more quickly. Here's what happened. 
Turkish Sanctions | EU diplomats agreed to impose travel bans on two Turkish nationals and freeze their assets in retaliation for Ankara's gas prospecting in disputed waters near Cyprus. While symbolic, the move — which still needs formal approval by governments — marks an extraordinary escalation against a country that's still officially a candidate for EU membership.
French Lessons | France's recent industrial history may have a lesson for governments balancing climate change and economic demands: carbon taxes can cut greenhouse emissions and aren't that bad for jobs. Here's the proof. 
Bulgarian Spat | Bulgaria's president deepened his rift with Prime Minister Boyko Borissov's government, saying it had lost his trust and that the country was spiraling into a "sharp crisis" under its rule. The country has been under scrutiny from the EU over its poor adherence to the rule of law and limited success in fighting high-level corruption.
Cigarette Tricks | As menthol cigarettes face an EU ban, Big Tobacco is finding creative ways to keep giving smokers their minty fix. The bloc's measures will intensify competition to lure menthol fans to alternatives, including IQOS, the heated-tobacco device made by Philip Morris, which is exempt from the pending rules.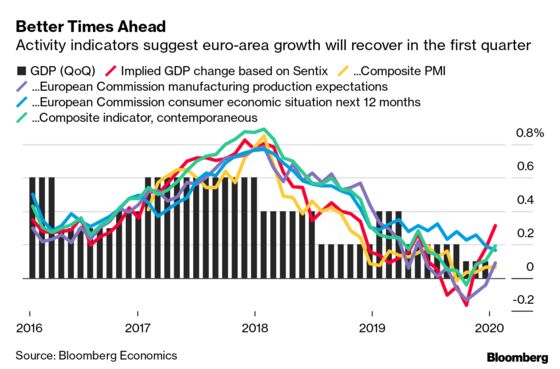 The euro-area economy expanded just 0.1% in the final three months of 2019, a weak performance that caught forecasters by surprise, but it's not yet a reason to panic, according to Bloomberg Economics. Indicators, such as the PMI and Sentix surveys, suggest brighter times lie ahead and BE sees euro-area growth recovering this quarter. 
11 a.m. Eurostat to release retail trade reading for December
12 p.m. Commission publishes proposals for revising euro-area economic governance and changing EU enlargement rules
EU tech and antitrust chief Margrethe Vestager meets Apple Senior Vice-President John Giannandrea and delivers a speech to the Institut des Hautes Etudes de la Defence in Brussels