Afghanistan Benefits as Airlines Divert Through Its Airspace to Avoid Iran
(Bloomberg) -- Afghanistan, one of the world's poorest countries, is benefiting from an unexpected windfall in the wake of Iran's downing of a Ukrainian jetliner in a missile barrage earlier this month.
With many international airlines still reluctant to fly over Iran in the wake of the Jan. 8 tragedy, its neighbor is benefiting as planes divert through Afghan airspace, generating fees of $700 a trip in the process.
The switch has seen revenue from overflying jump by about $100,000 a day, or more than one-quarter, according to Afghanistan's civil aviation authority, with as many as 400 flights crossing the country in 24 hours. Affected routes typically link Southeast Asia and India with Europe.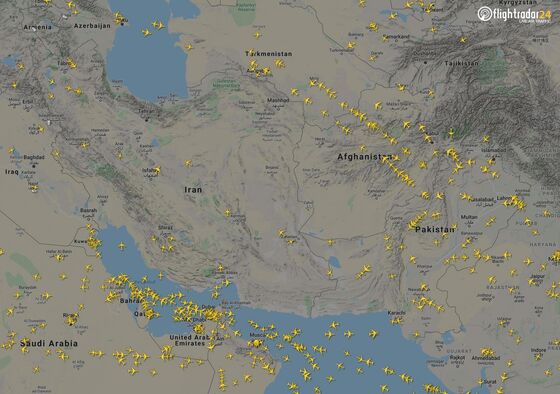 "Many international airlines currently see Iran's airspace as highly risky," said Mohammad Naeem Salehi, a spokesman for the authority in Kabul. "Afghanistan's airspace is seen by them as more secure."
Iran said on Jan. 11 that it had shot down Ukraine International Airlines Flight 752 as it departed Tehran, killing all 176 people on board, after missile crews confused the Boeing Co. 737 with a hostile target. Carriers overflying the Islamic Republic had begun to divert a few hours earlier after the government launched rockets against U.S. forces at bases in Iraq.
The overflights have provided a boost for an Afghan economy propped up by international aid after its own struggles with years of war. Aviation is already the third-biggest revenue earner after customs and telecommunications, generating 8 billion Afghanis ($104 million) in 2018, including landing and parking fees and taxes.
The country plans to raise the overflights levy to $950 by July to help pay for the cost of a new radar system from France's Thales SA.
While there's been a falloff from the peak of 415 flights a day at the height of tensions in Iran as some carriers revert to their usual routes, the figure remains at about 390, well above normal.
Carriers typically follow the shortest great-circle paths unless hindered by closed or dangerous airspace, or factors such as poor weather.
Though more jets are flying above Afghanistan, the country has few direct flights amid the lingering conflict, with Kabul's Hamid Karzai International Airport served by just seven foreign carriers, including Turkish Airlines, Air India and Dubai-based Emirates.
"Afghanistan's airspace might be safe but its ground could be dangerous," said Ahmad Shokur, a member of the Afghanistan Institute for Civil Society. A suicide bomb near the airport's entrance killed 14 people and wounded 60 in mid-2018, while rocket attacks are commonplace.
Services within the country are also hindered by mountainous terrain. In the latest incident on Monday, a U.S. Air Force Bombardier Inc. E-11A surveillance aircraft came down in Ghazni Province, killing two people. The Pentagon said the cause of the crash was uncertain but that there were no indications of enemy fire.