Thyssen to Sell Elevators in $19 Billion Private-Equity Deal
(Bloomberg) -- Thyssenkrupp AG will sell its elevator division to a group backed by Advent International and Cinven for 17.2 billion euros ($18.9 billion), making it the biggest private-equity deal in Europe in a decade.
Advent and Cinven are part of a consortium that includes the Abu Dhabi Investment Authority and Germany's RAG Foundation. They beat out a rival bidding group that included Blackstone Group Inc. and Carlyle Group Inc.
For Thyssenkrupp, the deal is a cash infusion for a company that's been battered by Germany's sputtering economy and years of mismanagement. It's also the first step in a plan set out by Chief Executive Officer Martina Merz to plug holes in the balance sheet and buy time to restructure other unprofitable divisions.
"With the sale, we are paving the way for Thyssenkrupp to become successful," Merz said in a statement. The company's American depositary receipts jumped as much as 7.9% in U.S. over-the-counter trading Thursday.
The deal will be the biggest private-equity acquisition in Europe since 2007, when KKR took Alliance Boots Plc private in a deal valued at more than $23 billion including debt, according to data compiled by Bloomberg. The deal comes after months of negotiations with suitors, which at one point included Finnish rival Kone Oyj.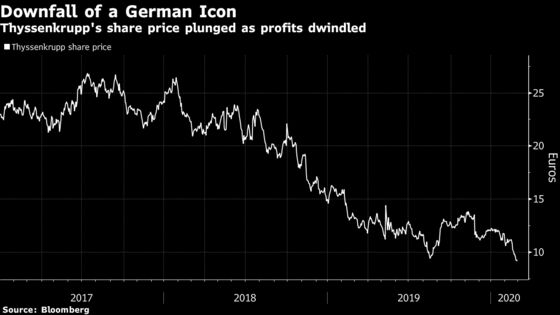 Once an emblem of German industrial prowess, Thyssenkrupp is fighting for survival. The company has been bruised by a slowdown in Chinese and German manufacturing, rising pension costs and falling demand for European steel.
Thyssenkrupp will use cash from the elevator sale to pay down borrowings and fund some of its pension obligations. The company is heavily indebted and in the most recent earnings statement, net debt jumped to 7.1 billion euros.
Merz is now looking at what to do with other businesses at the conglomerate, many of which are unprofitable and span from plant building to submarines and car parts. Thyssenkrupp said it will draw up plans for its other units and present them to the board in May. It'll then make a decision about what divisions to keep and which ones should be sold or shut down.
"Thyssenkrupp must become competitive and able to pay dividends again," said the company's largest shareholder, the Krupp von Bohlen und Halbach-Stiftung foundation.
The buyers have also agreed to manage the elevators business as a global group and keep the business in Germany. They've also committed to certain employment guarantees, Thyssenkrupp said.