Advent's Shampoo Maker Olaplex Rises After $1.6 Billion IPO
(Bloomberg) -- Olaplex Holdings Inc., backed by private equity firm Advent International, rose 17% in its trading debut after its initial public offering beat expectations to raise $1.55 billion.
Shares of the hair-care products maker, which sold for $21 in the IPO and rose as much as 26% Thursday, closed at $24.50 in New York, giving the Santa Barbara, California-based company a market value of $16 billion.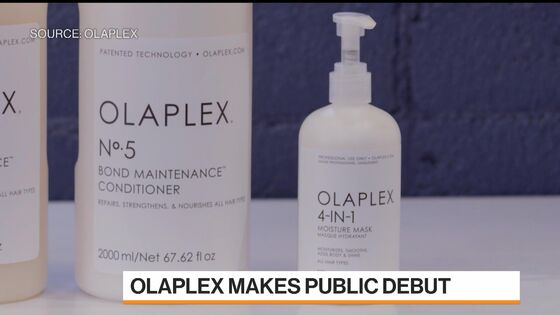 Advent and other Olaplex investors sold 73.7 million shares Wednesday after marketing 67 million for $17 to $19.
Advent was set to control about 80% of the shareholder voting power in the company after the listing, according to the Olaplex's filings with the U.S. Securities and Exchange Commission. Mousse Partners, the investment firm for the family behind Chanel, will control about 6%.
The IPO caps a month of consumer listings, which have raised $3.9 billion on U.S. exchanges since Sept. 1, according to data compiled by Bloomberg. After Olaplex, the largest of those was running shoe maker On Holding AG, which raised $858 million in its IPO, and coffee chain Dutch Bros Inc., with a $557 million IPO.
"The hair care and consumer business is very much resonating with investors," Olaplex Chief Executive Officer JuE Wong said in an interview. "Hair care is a movement."
The company will focus on growing its existing business, though it has also put aside investment to explore adjacent categories such as skin and nail care, Wong said.
Noting that 77% of the company's employees are women and 41% are minority, she added. "We are very proud that we mirror the community that we serve."
Olaplex's sales climbed sharply during the first half of 2021 compared with a year earlier. Olaplex swung to a profit of $95 million on net sales of $270 million for the first six months of the year, compared with a net loss of $22 million on about $100 million in sales during the same period in 2020.
Founded in 2014, the shampoo and conditioner maker was bought by Advent in 2019, according to a statement at the time that didn't disclose deal terms. The company named Wong as CEO, according to a statement in January 2020. Wong had been CEO of Moroccanoil, the skin and hair-care brand.
The offering was led by Goldman Sachs Group Inc., JPMorgan Chase & Co., Morgan Stanley and Barclays Plc. Olaplex's shares are trading on the Nasdaq Global Select Market under the symbol OLPX.