Adobe Slips After Forecast Sows Doubt on Growth Momentum
(Bloomberg) -- Adobe Systems Inc. fell after forecasting sales roughly in line with Wall Street expectations, sowing doubt about whether the company can sustain blockbuster growth that's pushed its shares up almost 90 percent in the past year.
The software maker also reported a fiscal second-quarter operating profit margin that missed average analysts' estimates, even as sales grew. Sales in the current quarter will be about $2.24 billion, the San Jose, California-based company said in a statement Thursday. The average analyst estimate was $2.22 billion, according to data compiled by Bloomberg.
Adobe Chief Executive Officer Shantanu Narayen is trying to expand beyond creative products like Photoshop and Illustrator. He agreed to buy Magento Inc. for $1.68 billion in May, to capture a bigger slice of the e-commerce software market. Still, investors are waiting for the new initiatives to take off and expectations are high.
The company's Digital Experience segment, which includes newer marketing and commerce software offerings, generated $586 million in sales in the fiscal second quarter, up 18 percent from a year earlier. Adobe expects the growth rate to drop to 15 percent in the current period.
Adobe shares fell as much as 5.4 percent in extended trading after closing at $258.10 in New York earlier on Thursday.
"Operating margin missed despite higher revenue," said Pat Walravens, an analyst at JMP Securities. Adobe's forecast for the new marketing and commerce software business was in line with expectations, while there's "some uncertainty around Magento," he added.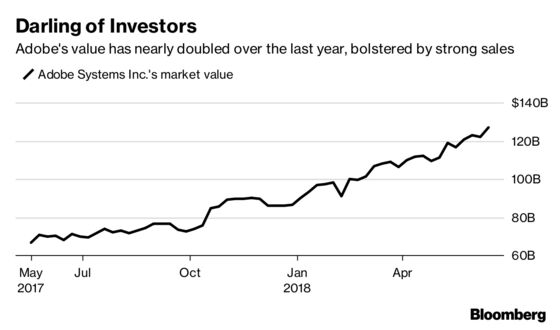 Analysts expected Adobe's operating margin to hit 40.4 percent in the period ended June 1, according to JMP data. Adobe reported a 40 percent margin.
Revenue from Adobe's digital media unit climbed 22 percent to $1.55 billion, mostly driven by creative software like Photoshop. Sales from the core creative suite matched analyst expectations, which isn't enough to push the stock higher, Walravens said.
The company hopes Magento will improve the performance of its new businesses in coming months.
"The addition of Magento expands our available market opportunity, builds out our product portfolio, and addresses a key under-served customer need," Narayen said.