Adler Sells Apartments to Rival Landlord LEG to Slash Debt
Adler Group SA shares jumped as the landlord finalized its biggest planned sale of apartments to raise cash, even at a lower price than it had originally announced.
LEG has agreed to pay 1.29 billion euros ($1.5 billion) for 100% ownership of 13 Adler holding companies that own 15,362 apartments and 185 commercial properties, according to a statement Wednesday. Adler announced the outline of that deal in October, saying it would sell 90% of the companies owning 15,400 apartments. At the time, Adler said the portfolio was valued at 1.49 billion euros. 
"The price has changed," LEG Chief Executive Officer Lars Von Lackum said on an analyst call Wednesday. "We had a deep look into the portfolio and found one or two things."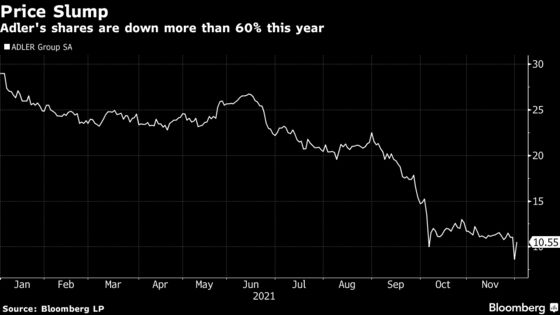 In a second transaction Adler sold an initial 7% stake in subsidiary Brack Capital Properties to a subsidiary of LEG for 75 million euros, according to a separate statement. The embattled landlord will also tender its remaining shares for a price of no less than 157 euros per share. The price reflects a 4% discount to Brack's reported valuation. 
Adler has plunged more than 63% this year after coming under scrutiny from short-sellers. Fraser Perring's Viceroy Research published a report in October, accusing it of inflated valuations, related party deals and being run for the benefit of investors including Cevdet Caner, whose family owns a minority stake in the company.
Caner's family first invested in Adler Real Estate in 2012, helping grow it from a tiny company into one of Germany's largest landlords through a string of audacious deals. That changed after the controversial three-way merger last year that created Adler Group brought howls of protest from minority shareholders and scrutiny from short-sellers. 
Adler's defense since the publication of the Viceroy report has focused on selling off large chunks of its portfolio, unwinding the growth achieved in recent years in a bid to cut debt and prove its valuations are accurate.
The company's share price dipped to record lows on Tuesday after Adler reported third-quarter earnings. The stock has recovered some of those losses since announcing the portfolio sales on Wednesday but it's still down more than 4% over the past two days.
The company's 2029 bonds pared most of Tuesday's losses to trade at 84.4 cents on the euro, according to CBBT prices.
The combined deals will initially generate net proceeds of 882.5 million euros for Adler, with a potential further 765 million euros from the sale of the company's remaining stake in Brack. The proceeds from the portfolio sale will reduce Adler's loan-to-value ratio to 52.7% from 57%, the company said.