Adler Seals $686 Million KKR Property Deal to Ease Debt Burden
Adler Group SA is selling a property portfolio to KKR & Co. for about 600 million euros ($686 million), a transaction the embattled real-estate company said will help it achieve its deleveraging goals.
The cash from the sale of about 14,400 residential and commercial units, mostly in eastern Germany, will help push its loan-to-value ratio below 50%, Adler said in a statement on Thursday. The deal values the portfolio at 1.05 billion euros, which is a premium to the book value of the assets as of Sept. 30, the company said. Bloomberg first reported KKR's interest in October.
Adler rose as much as 5.4% in Frankfurt on Thursday, extending its gain this year to 8% as the company makes headway with asset sales.
After losing 60% of its market capitalization in 2021 because of short-seller attacks, Adler rushed to trim its 8.5 billion-euro debt pile, selling more than 15,000 apartments to rival LEG Immobilien AG for 1.29 billion euros in December. The combined KKR and LEG deals almost halved Adler's original residential portfolio of 70,000 units.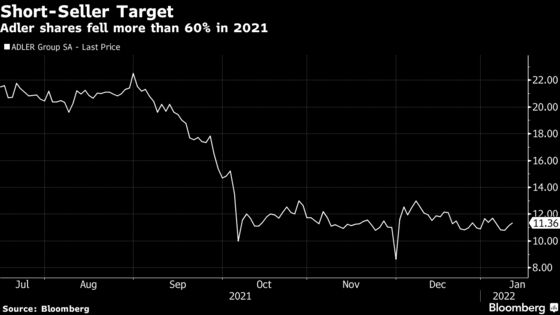 Read More: Adler's Key Investor Speeds Up Asset Sales Amid Financial Crunch
The shares buckled last year after Adler came under scrutiny from short sellers. Fraser Perring's Viceroy Research published a report in October, accusing it of inflated valuations, related party deals and being run for the benefit of investors including Cevdet Caner, whose family owns a minority stake in the company.