Adani Stocks Cut Loss After Denying Freeze on Investor Accounts
(Bloomberg) -- Shares of companies controlled by billionaire Gautam Adani recouped a part of their day's losses after refuting a local report that said accounts of three Mauritius-based funds that own the group's stocks were frozen.
The Economic Times reported Monday that National Securities Depository Ltd. froze the accounts of Albula Investment Fund, Cresta Fund and APMS Investment Fund. It said the action was probably due to insufficient disclosure of information regarding beneficial ownership, citing people it didn't identify. The report sparked a selloff in shares of six listed Adani firms before the ports-to-power conglomerate rebutted the claims.
In separate filings to Indian exchanges, Adani group companies said the report is "blatantly erroneous and is done to deliberately mislead the investing community." The companies said they have confirmation from the Registrar and Transfer Agent that the demat account in which these funds hold the shares is not frozen.
A spokesperson for capital markets regulator Sebi didn't immediately respond to a request for comments. National Securities Depository also didn't repond to a request for comments.
The funds, registered at the same address in Port Louis, own more than 435 billion rupees ($6 billion) in four Adani group firms, the report said. Freezing of accounts would mean the funds won't be able to sell or buy new securities.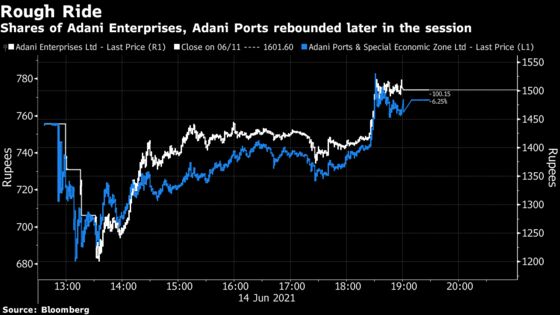 Adani Enterprises Ltd. ended 6.3% lower, paring an intraday decline of as much as 25% while Adani Ports & Special Economic Zone Ltd. trimmed losses to 8.5% after slipping as much as 19%. Adani Total Gas Ltd., Adani Green Energy Ltd., Adani Power Ltd. and Adani Transmission Ltd. all fell by their 5% limit earlier in the day.
Authorities must be "vigilant" on the sharp price moves in Adani group stocks, said Shriram Subramanian, founder of proxy advisory firm InGovern Research Services Pvt. "Sebi should also investigate the concentration of holdings by select funds without disclosure of beneficial owners," he said.
A sharp rally in the shares of some of the Adani Group companies had added over $40 billion to Gautam Adani's wealth this year through Friday, making him the second-richest person in Asia. The quick surge in these stocks, largely held by overseas funds and with very little public float, had also led some analysts to flag the risks involved.
The price of Adani Total Gas has climbed threefold this year despite today's plunge, while Adani Transmission has gained nearly 250%. Adani Power is up 183%, Adani Enterprises 213%, while Adani Ports is up 57.5% so far in 2021.
Stock exchange BSE Ltd. last week sought clarification from Adani Power after the stock jumped nearly 20% for two consecutive sessions to which the company responded that it had no pending information or announcement and the share price seemed "market driven."
The group's stocks, especially Adani Total Gas, Adani Enterprises and Adani Transmission, "look extended," Bloomberg Intelligence analysts Gaurav Patankar and Nitin Chanduka wrote in a June 10 note after analyzing technical indicators.
"Among the biggest foreign investors are a few Mauritius-based funds holding over 95% of assets in these companies," the analysts wrote. "Such concentrated positions, along with negligible onshore ownership, create asymmetric risk-reward as large investors conspicuously avoid Adani."