Adams, Yang Spar as McGuire Takes Shots in Final NYC Debate
(Bloomberg) -- Eric Adams and Andrew Yang bickered, Ray McGuire pushed his status as a non-politician and Scott Stringer scoffed at Yang's proposal to have a casino on Governor's Island. In their final televised appearance together before the primary election, the eight leading Democratic candidates for New York mayor debated rising crime, homelessness, climate change and undocumented immigrants.
No candidate admitted to getting more than six hours of sleep a night. And on one thing, all those asked seemed to agree: they would not offer Mayor Bill de Blasio a job in their administration.
Early in Wednesday night's debate, Yang, the former presidential candidate, went into attack mode against Adams, who's usurped the lead from Yang in recent polls. Yang assailed the former police captain for not having the right answers to fight crime, and taunted him with the fact that the union representing NYPD captains endorsed Yang, not Adams. Adams said he never asked for their endorsement, but Yang said he did.
Adams denied that he wanted to bring back controversial stop-and-frisk policing, saying that while the policy had been abused he could "show how to use it correctly." Adams has continued to talk about intervention and prevention on how to tackle the worsening crime crisis. Yang said the city needed "21st century solutions to keep New Yorkers safe, not the failed policing of the past."
The other loud squabble of the night was between Dianne Morales, a former nonprofit executive, and McGuire, a former Citigroup Inc. banker. The two sparred over whether McGuire could appropriately speak for members of the Black community. McGuire, who is Black, insisted that he could, and the two argued back and forth until moderators told them it was time to move on.
McGuire, who has spent the most on the mayoral race and is near the bottom of the pack in polls, also took shots at Stringer, the city comptroller, and Maya Wiley, a civil-rights advocate, as he worked to distinguish himself from the pack.
"You've got a lot of politicians talking and I'm not a politician," McGuire said, as he asked to have a question about undocumented immigrants repeated to him, even after several candidates had already been asked and answered the question.
Morales, when given 30 seconds to make her pitch to the city, introduced her remarks in Spanish before telling the voters in English that returning from this crisis is an opportunity to address systemic poverty and inequality.
Wiley, who has the backing of national progressives, was asked to make a quick pitch to lure a biotech company. She said good schools and talented workers were incentive enough and rejected tax breaks.
McGuire, who has proposed having a deputy mayor for public safety, was asked how adding another level of bureaucracy would help fight crime. That question appeared to annoy him, prompting a one-word answer: "accountability." He then went after Adams, who has said he would carry his own handgun as mayor, and Wiley, who pays for private security in her neighborhood.
"While Eric may be packing a gun and Maya Wiley has paid security where she lives, I'll have police in areas where gun violence is occurring," he said, adding that he'd go trace weapons used in crimes back to their source of original sales.
Kathryn Garcia, the former city Sanitation Commissioner and crisis manager for de Blasio, rejected the idea of hiring the term-limited incumbent to work in her administration. De Blasio has yet to give an endorsement in the race, and every candidate but Yang has said they didn't want it. The mayor said earlier Wednesday that he would be watching the debate and hadn't decided yet who to vote for.
"You know it's bad if the de Blasio alumni wouldn't hire him," Stringer said in response to Garcia. He also said he wouldn't hire the current mayor, but he left open the possibility of turning to him for advice if he felt it would be helpful.
Morales also said she wouldn't hire de Blasio. Wiley said the question "makes me sad," adding he wouldn't want a job in her administration, anyway. Yang said the voters "want a change."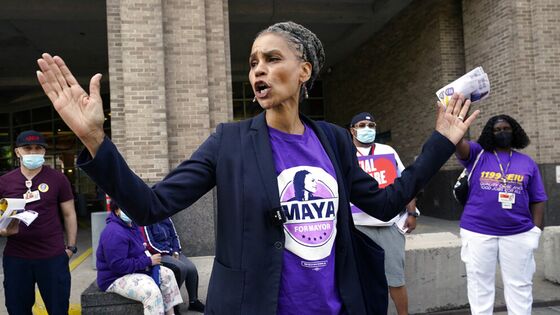 The debate got heated when candidates were asked to identify the worst ideas proposed by any of their rivals.
Yang said it was Adams's pronouncement that he would bring his own gun to church as a safety measure. Adams retorted that the worst idea was Yang's universal basic income proposal, which would give the 500,000 poorest New Yorkers $2,000 a year.
Garcia and McGuire both said the worst idea was to defund the police, while Morales said it was Adams's proposal to pack the subways with cops. Stringer said it was Yang's proposals for TikTok houses -- where groups of young artists collaborate -- and a casino on Governor's Island.
Wiley said the worst idea was Adams's proposal on stop-and-frisk. Adams retorted that Wiley isn't concerned about safety because she lives in an affluent neighborhood that pays for its own security.
Shaun Donovan, the former city housing commissioner and U.S. housing secretary, declined to identify a worst idea. When others bickered, he interjected, calling for positivity.
When the candidates were asked if there's anything they would like to ban in the city, Wiley echoed from former Mayor Michael Bloomberg, founder and majority owner of Bloomberg LP, parent of Bloomberg News, whom she has criticized for years.
"I would love to ban every sugary drink that was ever invented," she said, "because my kids suck them down no matter what I do."
Donovan, who was housing commissioner in Bloomberg's administration, then took a jab at Wiley, saying "I'm glad you recognize the progress we made" bringing life expectancies up. He said he would ban "food deserts" and neighborhoods without parks.
Yang said he would ban ATVs, while Adams, a health advocate, said he would outlaw schools not having rooftop farms and processed meat in the schools. Garcia would ban corn syrup, and touted the fact that she banned Styrofoam as sanitation commissioner. Stringer called for healthier food in schools, while McGuire said he would ban "health care deserts" in poorer communities.
On homelessness, Adams said "we can turn this problem around," through a combination of supportive housing, creating living space in single-room occupancy hotels, more intensive mental-health counseling and other social supports.
Garcia committed to offering 50,000 units of affordable housing and 10,000 units of supportive housing. Yang's prescription for homelessness, meanwhile, mostly described and decried the extent of the problem.
"That is the most non-specific answer to a question I ever heard," Stringer said to Yang.
Donovan wasted no opportunity to remind voters of his housing experience. He said the city must focus on the right to housing, not shelter. He echoed others' calls for more supportive housing, vowing to create 2,000 more such units.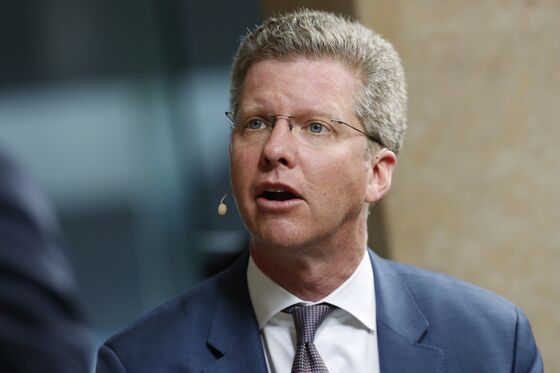 In a place that mayors from Fiorello LaGuardia to Rudolph Giuliani to de Blasio have promoted as a "sanctuary city," the Democratic candidates competed among themselves proposing ways to help these New Yorkers who face challenges getting jobs, health care and education.
Wiley proposed $5,000 grants to the neediest New Yorkers and including undocumented immigrants as eligible. Yang said his $2,000-a-year proposal would be enough money to "keep people in safe, stable environments."
Donovan, taking a page from de Blasio's book, said the "economic inequality pandemic" preceded the Covid-19 pandemic. He said giving people access to money would save the city if it kept them out of jail.
The city already gives cash to the poorest New Yorkers, Garcia said. She called for using city money "to invest in jobs for young people."
To close the city's $5 billion budget gap, Garcia said she would streamline city agencies and work on productivity enhancements with city unions. Adams said he would call for cuts of 3% to 5% in all city agencies and would ask the unions where the city could enhance productivity and cut costs.
Stringer said he saved $2.2 billion by refinancing city bonds. He tried to attack Garcia for de Blasio's $100 million budget cut to her sanitation department. Garcia, who resigned over the issue, said she agreed with Stringer that the cuts were unwise and would restore them. Those cuts were restored by de Blasio, after federal aid helped pay for it.
"The only way out of this is to grow our way out of it," said McGuire of the budget deficit. He vowed to create 500,000 jobs, in part, he has said, by subsidizing salaries of workers hired by small business owners. "You need someone with management experience to do this," McGuire said, touting his history as an investment banker and Citigroup executive.