Barclays' Staley Sheds Biggest Critic as Bramson Sells Stake
Edward Bramson's Sherborne Investors Management LP has sold its stake in Barclays Plc, cutting its losses after three turbulent years battling Jes Staley's strategy to bolster the investment banking business.
The activist investor has divested its entire 6% holding and is building a new position in an undisclosed company, Sherborne said Friday. "Business is not a science," the fund said in a letter to investors.
Bramson went public with his campaign to shake up Barclays in March 2018, criticizing Chief Executive Officer Staley's focus on expanding the securities unit, which the investor called a "black box with too much leverage." His pleas to scale back this business gained little traction, and the past year of pandemic-driven volatility has delivered record results within the investment bank.
Sherborne has lost about 15% on its investment overall, according to a person familiar with the matter, who asked not to be named discussing sensitive information.
Barclays shares rose as much as 3.2% to 182 pence in Friday trading, after Sherborne said it sold out for 186 pence.
Bramson's defeat provides some vindication for Staley's focus on competing with Wall Street's investment banking giants since taking the reins in 2015. The American CEO has grown the securities unit as a hedge during times of economic crisis, hiring in former colleagues from JPMorgan Chase & Co. while reshaping the division to stave off concerns about costs. Staley took more direct control of day-to-day management in 2019 after deputy Tim Throsby's departure.
Revenues at the securities unit increased by 22% in 2020, helping to offset weaker results in the pandemic-strained retail bank. The bonanza continues this year with a 65% jump in equity trading and record investment banking fees for the first quarter. "I can't predict the second, third or fourth quarter, but fundamentally the capital markets continue to grow," said the CEO last week.
"Staley can now continue his push without the fear of reprisal," said Fahed Kunwar, analyst at Redburn. "2020 was the final nail in the coffin for Sherborne's plan."
Sherborne joins the ranks of activist investors who have found global banks difficult targets to shake up given their size and regulatory scrutiny. Cerberus Capital Management has tried to change Commerzbank AG's strategy and weigh in on its leadership, with mixed results. Daniel Loeb's Third Point LLC took a stake in Morgan Stanley in late 2012 asking for a "bold fix" of the firm's fixed-income unit, only to sell out a few months later after a quick rally in the stock. ValueAct Capital Management struck a deal with Citigroup Inc. that allowed the bank to share confidential information on strategy in exchange for the investor's endorsement of its executives and board.
Bramson had made a string of investments in U.K.-listed financial firms, installing himself as CEO at Electra Private Equity Plc, and pulling off a boardroom coup at F&C Asset Management before targeting Barclays.
During the overhaul at Barclays, Bramson lamented a lack of engagement. When he tried and failed to get a board seat at the 2019 shareholder meeting, he made a rare public appearance to declare that the strategy was not working and "things need to be done."
But Staley stuck to his guns. "He wants us to retreat into a foxhole? He should go back to Connecticut," the CEO told colleagues, according to a Wall Street Journal report at the time. That year, Barclays brought in a new chairman, Nigel Higgins, who promptly endorsed Staley's vision.
The activist renewed his attack on Staley last year, calling for his removal after it emerged British regulators were probing how the CEO characterized his relationship with deceased financier and sex offender Jeffrey Epstein. The U.K. Financial Conduct Authority is still investigating the matter.
Barclays has been one of the best-performing European bank stocks over the past year, gaining about 70%, although they are still down about 18% from the time Sherborne disclosed its initial stake and down 22% since Staley took over. That's a smaller drop than the average of major European banks, but well short of the performance of the Wall Street firms he aims to rival, several of whom have seen their share prices more than double in that time.
Bramson "recognized that his arguments were set to continue to fall on deaf ears from a board perspective, given that the value of Barclays' diversified business model has been proved through this pandemic," said John Cronin, an analyst at Goodbody.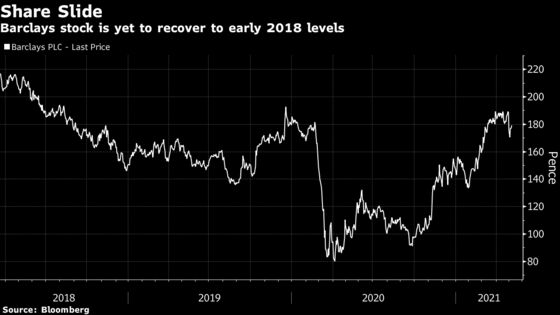 A representative at Barclays declined to comment.
Sherborne told its investors Friday that it expected its new investment, which "hasn't yet reached the public disclosure threshold," would afford it a better opportunity than Barclays to effect change.
"It is a pity that the opportunity did not arise to join the board of Barclays to assist in a turnaround," Bramson said.