Ex-JPMorgan CFO, Now Activist, Bets Big on Deutsche Bank CEO
(Bloomberg) -- Ex-JPMorgan Chase & Co. finance head Doug Braunstein is making his biggest bet yet: That Deutsche Bank AG Chief Executive Officer Christian Sewing will finally succeed where many others have failed.
Braunstein's Hudson Executive Capital LLP on Thursday revealed that it's built a 3.1 percent stake in Deutsche Bank after the shares dropped to a record low. He's staking about $660 million on the belief that Sewing will restore the bank to profitable growth and successfully complete the lender's fourth turnaround plan in three years.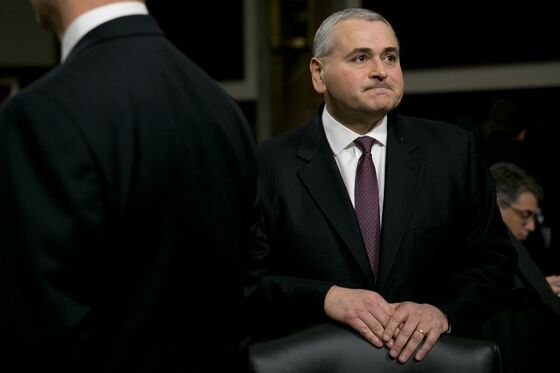 Deutsche Bank is one of the worst-performing lenders in Europe, having lost about 44 percent of its market value this year after investors questioned Sewing's ability to boost revenue. The stock gained more than 4 percent after the report of the stake.
"My investment is based on my belief that Deutsche Bank now has the right guy in the right job at the right time," Braunstein said by telephone. "Christian has a background and a reputation, and a very good one, as saying something and doing what he says and hitting what he says."
He also said he doesn't want a supervisory board seat. Deutsche Bank's shares should end up trading about three times higher than their current level if Sewing's plan succeeds, he said, and a merger with another bank isn't needed to achieve that.
Third-quarter results did little to alleviate investors' concerns. Deutsche Bank posted the lowest quarterly revenue in eight years and abandoned some targets, driving the stock to its lowest ever last week and reviving questions about strategy. Issues at the investment bank and failure to reinvigorate growth cost John Cryan, Sewing's predecessor, his job.
Braunstein's bet on Sewing's ability to turn around Deutsche Bank is a large one. The stake is worth 580 million euros ($661 million) at the bank's current share price, making it more than three times bigger than Hudson's next biggest public investment. Among his arguments for buying: "significant upside" to earnings for the private and commercial bank from rising interest rates and growth at the "crown jewel" global transaction bank.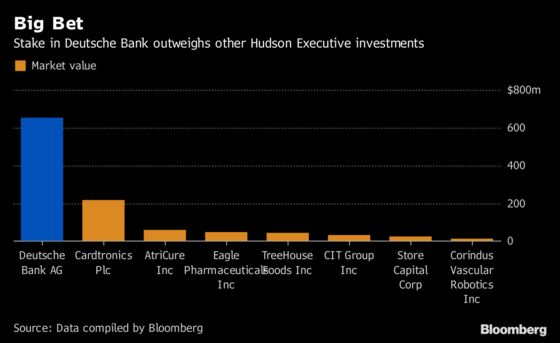 Braunstein is the second major ex-JPMorgan executive to take an interest in Deutsche Bank. He worked for years with Matt Zames, who now is an executive at Cerberus Capital Management and is leading the team advising the German lender on turning around its operations. Cerberus became one of Deutsche Bank's largest shareholders last year.
Activists have targeted European banks before. Barclays Plc, in the midst of a controversial overhaul of its investment bank, is now the target of Edward Bramson after his Sherborne Investors acquired 5.2 percent of the voting rights. In Switzerland, Rudolf Bohli gained little traction for his plan to break up Credit Suisse Group AG despite a public campaign, while UBS Group AG was once targeted by Knight Vinke Asset Management.
It's not just European banks that have been in the activists' cross-hairs. Valueact Capital Management, the activist fund run by Jeff Ubben, disclosed a $1.7 billion bet on Citigroup Inc. this year. The San Francisco-based fund, which managed $13 billion in assets, argues the bank is undervalued and misunderstood by investors and has tremendous upside.
Braunstein's investment comes as Deutsche Bank's largest single investor pulls back from the bank. The Chinese conglomerate HNA Group Co. has been decreasing its stake since the beginning of the year and it's set to fall even further as the investor seeks to pay down its high level of debt.
Hudson's stake is just above the 3 percent notification threshold set by the German regulators and puts Hudson just above Cerberus. Only the members of the Qatari royal family and BlackRock hold larger stakes in Deutsche Bank.
The low valuation --its price-to-book ratio is 0.3 -- has fueled speculation about a merger with other banks, most likely Germany's second-biggest listed bank, Commerzbank AG.
Hudson said Deutsche Bank should focus on three key areas:

Strengthening of private and commercial bank, asset management unit DWS and "crown jewel asset" global transaction bank.
Focus on areas of strength at investment bank, connecting global transaction banking with fixed-income business, implementing headcount reductions.
Continued management and optimization of balance sheet