Bond Pickers See Price Swings as Chance for Revenge Over ETFs
(Bloomberg) -- Fund managers are turning drastic declines in Europe's high-yield bond market into an opportunity to demonstrate their superiority over passive investment.
Astaldi SpA and Debenhams Plc are among firms whose bonds have fallen sharply this year, with some securities losing almost a third of their face value in a matter of days. Such price swings follow from tight new-issue pricing and a drop in availability of single-name-specific research after the implementation of MiFID II rules in January.
Active fund managers sense opportunities amid the price movements.
"This is the first time we're seeing as many names lose ten to 20 points on news flow, some of it very little," said Thomas Samson, a high-yield portfolio manager at Muzinich & Co, who helps manage $33.3 billion in assets. "There's a rise of nerves among investors and it's fear that's driving a lot of the secondary moves."
Active fund managers are also seeing the rise in market swings as a chance to prove their worth as bond pickers, and fighting back against passive "tracker" funds. Those vehicles, which mimic benchmark indexes and are cheaper, have grown rapidly in recent years amid criticism that active managers charge high fees from investors.
"We're fighting for survival from ETF investors," Samson said. "If investors are not getting the yield they want they will redeem and buy into ETFs. So we have to capitalize on these opportunities."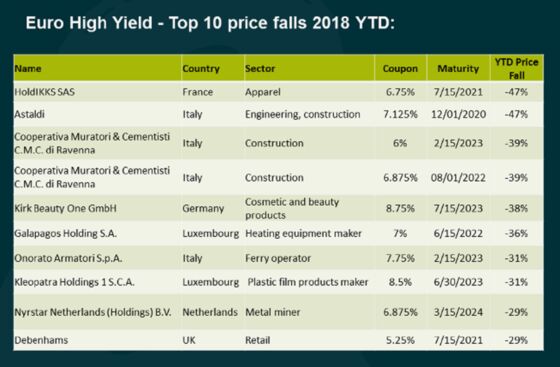 The high-yield sector has always been an inefficient asset class, but MiFID II has made it more so by curtailing information and analysis, said James Tomlins, a fund manager at M&G Investments. Tomlins wrote earlier this week that the number of severity of "idiosyncratic outliers" in the Europe's high-yield market means selection is paramount.
The increase in single-name price dispersion should be a good environment for active managers to add value, said M&G's Tomlins.
"The key is making a call on where the true value lies and taking a position accordingly," he said citing New Look Retail Group Ltd's securities, which have doubled in price this year. The retailer's 700 million pounds ($910 million) of July 2022 bonds rebounded to 63 pence in August from a low of 35 pence in January, according to Bloomberg data. It was at 55 on Friday.
Justin Jewell, who helps manage about $4.3 billion as Co-head of Global Leveraged Finance at BlueBay Asset Management, attributed the sharp decline of some bonds in the secondary market to changes in monetary policy and the low yield environment.
"Some of the names that have suffered have been challenged for a long time, even years, and suddenly they are being punished now. We're looking at a few names that could bring value, but the main aim is to avoid those that trade off in the first place," said Jewell. "100% there's an opportunity right now to capitalize on the secondary market volatility, active managers like us want a high level of dispersion. "